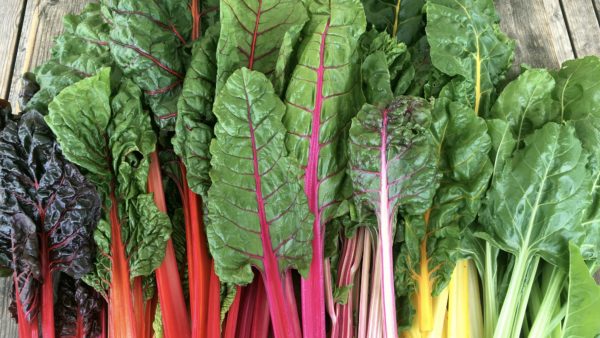 We like to grow it, eat it and create recipes with it!
The chard plant was first described in 1753. The word "chard" descends from the 14th-century French "carde" meaning artichoke thistle. Chard is a biennial plant and it is part of the beetroot family but unlike the beets chard is grown for its leaves. Most of its species produce three or more crops. So when chard's season starts it's unstoppable. Chard includes green form also known as Swiss chard as well as red and yellow ribbed forms known as Rainbow chard. You probably wonder whether Switzerland has something to do with the name given to the green variety. The historians are not quite sure. What we know though is that the plant is not native to this country and it's used in traditional Swiss cuisine in a dish called
capuns
. You can also try farm's 
 vegetarian version of capuns
.
Apart of being beautiful and colourful, chard is rich of nutrients. Strong antioxidant, with high levels of Beta Carotene and vitamin A for healthy eyes and vitamin C to support our immune system, this gorgeous veg is delicious, versatile and easy to cook with.
For those who like raw vegetables chard's leaves are a bit bitter. When wilted or sautéed its bitterness quickly transforms into sweeter stir-fry type salad. Add a bit of roasted nuts and natural yogurt or your favourite pasta, it's absolutely delicious! Chard is fantastic for pie or pastry stuffing. One of our favourites is onion, mushroom and chard stuffing, ideal for filo pastries. Baked gratins, quiches and tarts are another delicious, easy to prepare food that chard could be confidently used for. When you make soups, stews or curry type dishes, stir fry the chard stalks with the roots and onions and add the leaves later, when the dish is half cooked. We like experimenting with our veg. Our
chard pesto
came to life when tuns of chard were coming from the field and we had to keep up with it. The pesto keeps for about 10 days in the fridge after it's been made.
Chard is a good friend with all dairy products – cream, yogurt, gouda, parmesan, cottage cheese, taleggio or cream cheese
Spices and herbs will make your chard even more flavoursome. Paprika, coriander, curry, thyme, black pepper, garlic and soy sauce are the ones we've tried and liked in chard dishes.
Here are some ideas from our recipe bank. You can also let your creative juices flowing and come up with your own chard inspired meal.
Happy cooking!