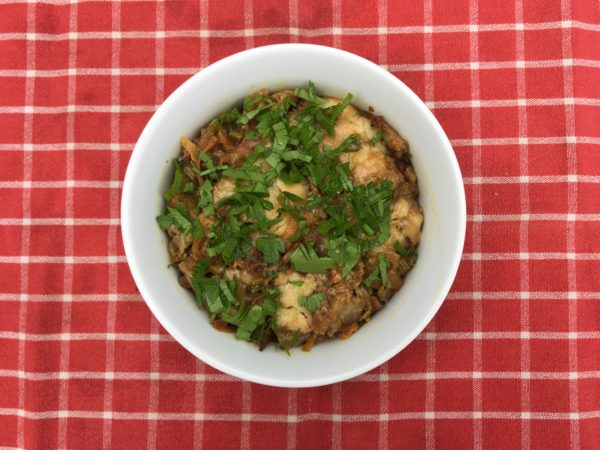 Serves: 4. Prep & Cooking Time: 45 minutes
Ingredients:
8-10 large chard, pak choi or spring greens leaves

400-500g courgettes (in winter could use squash, carrots or sweet potatoes instead)

1 medium white onion
2 large tomatoes (or 1 tomato tin)
handful of basil or parsley
4-5 cloves garlic
From the cupboard:
cooking oil

100g rice
½ teaspoon paprika

½ teaspoon dried thyme

1 tablespoon soy sauce
cheddar or your choice of cheese
salt to taste
Method:
Separate the stalks from the chard leaves and mince the stalks finely.
Grate the courgettes, mix them with salt and leave aside to drain.
Finely mince the onion and cube the tomatoes.
In a pot fry the onion, chard stalks, tomatoes and courgettes for about 10 mins. Add the rice to the veg mixture and keep stirring for about 3-4mins.
Add the spices and soy sauce and pour in 300g boiling water.
When the water has evaporated remove from the stove and crush in the garlic.
In a greased baking tray layer the chard leaves and the veg mixture one after the other finishing with a layer of chard leaves on top. Drizzle with cooking oil and add more boiling water to cover the lasagne. Bake at 

180°C until the water has evaporated.

Switch off the oven and sprinkle with cheese of your choice.
Serve with natural yoghurt.
Recipe and image by Pavlina.