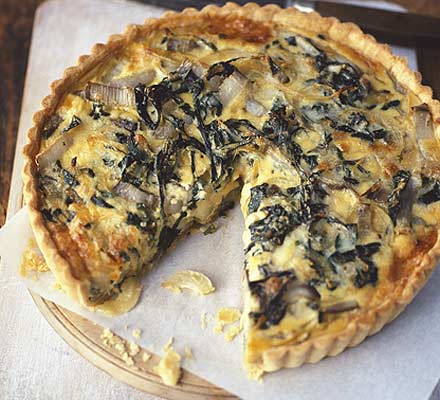 This recipe uses all of the chard, both stalk and leaves, so none is wasted.
500g all-butter shortcrust pastry
3 medium onions, finely sliced
250g Swiss chard, leaves and stalks separated
4 eggs
142ml pot double cream
75g Gruyère cheese, grated
2 tbsp parmesan, grated
Heat the oven to 190C/fan 170C/gas 5. Roll out the pastry to a £1-coin thickness and line a 23cm, loose-based tart tin. Line with a circle of baking paper and fill with baking beans. Cook for 10 minutes then take out the beans and paper and cook for another 10 minutes. Turn the oven down to 180C/fan 160C/gas 4.
Heat a knob of butter in a pan and cook the onions until completely softened. Add the Swiss chard stalks first and cook for 3 minutes then add the leaves and keep cooking until tender. Season and cool. Mix together the eggs, cream and cheeses and season well. Spread the chard and onion over the base of the tart and pour the egg mix over. Cook for 20-30 minutes until the filling is just set.
(From BBC Good Food)