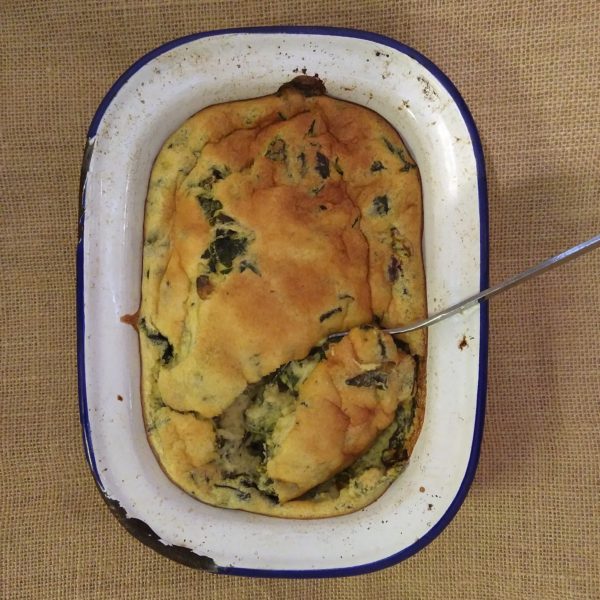 Vegetable souffles make a great centrepiece as part of a roast dinner, alternatively you can serve with just roast potatoes or a lentil salad for a simpler meal. I think people are unnecessarily scared by souffles – if you know how to make bechamel for lasagne and you can whisk egg whites then you know how to make a souffle!
The souffle can also be adapted for lots of other vegetables – spinach, courgette and squash all work well. You just need to finely slice greens, or grate the courgette or squash, and then cook them for long enough to evaporate off excess water before combining with the bechamel.
Ingredients:
300g chard
From the cupboard:
55g butter, plus extra for greasing tin(s) and cooking chard
55g plain flour
250ml milk
4 eggs – separated into 3 yolks and 4 whites
55g cheddar or other strong hard cheese, grated
Method:
Preheat the oven to 180 degrees C
Grease some metal or china souffle dishes with a little butter. You can do individual ramekins or one big one – equally delicious but will just take longer to cook.
Slice the chard finely, including the stalks.
Heat a frying pan with a small knob of butter, add the chard and cover. Cook until soft and wilted. You need to make sure all of the water has evaporated from the chard.
Meanwhile, make your bechamel: melt 55g butter in a saucepan. Add 55g flour, and cook briefly into a thick paste (roux). Add the milk slowly, stirring continuously to avoid lumps. When you have added all the milk you should have a thick white sauce. Set aside until your chard is ready.
When the chard is cooked, add it to the white sauce, along with the egg yolks and cheese. Season with salt and pepper. Stir well to combine.
In a separate bowl, whisk the egg whites (with an electric whisk) until stiff peaks form.
Add a little of the egg white to the chard and cheese mixture, and stir in to loosen the sauce. Add the rest of the egg white and fold in gently with a metal spoon. This is like making a cake or mousse – you want to retain as much air as possible in the mixture. It is better to slightly under mix it, than to over mix it.
Spoon the souffle mixture into the tin(s).
Bake for 10-12 minutes for individual ramekins, or about 30 minutes for a larger tin. The souffle should puff up, be golden, and be firm to the touch, with still a slight wobble. Serve immediately for the full impressive puffed up effect – but it is equally delicious after collapse!
Recipe design by Alice