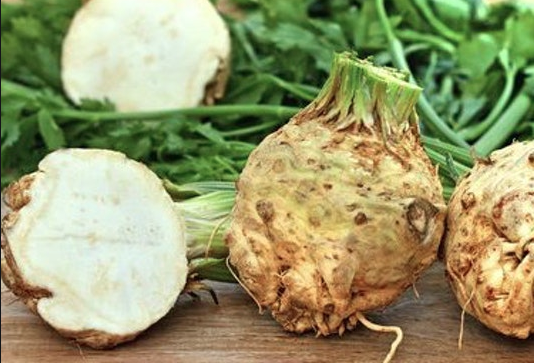 Celeriac, also called turnip-rooted celery, celery root, or knob celery, is a variety of celery cultivated for its edible stem. This unsung hero of the vegetable world has a subtle, celery-like flavour, with nutty overtones. Celeriac is at its best from September to April. When choosing get those heads that feel heavy. Store in the fridge or cool enough place. Celeriac discolours quickly when cut. You can prevent it by putting the chopped pieces in a bowl of water with a squeeze of lemon juice or a splash of white wine vinegar added.
Excellent low calorie food, celeriac is  high in fibres to help our digestive systems work better. It's also high in vitamin K to compensate the lack of sun light in winter times. Celeriac is rich in phosphorus to build strong bones and teeth as well as manage how our body stores and uses energy.
Being such a powerhouse of nutrients celeriac is also very versatile and delicious vegetable. You can try it in mash, slow-cook dishes or soups. You can roast it or make chips with it. It can be eaten raw and the most popular way is the celeriac remoulade. It's simply irresistible!
Here are some cooking ideas from our recipe bank:
Happy cooking!