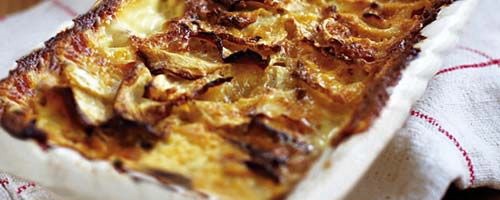 Provided by Sutton Community Farm Growing Apprentice, Charlotte Steel
Ingredients
25g butter, plus extra for greasing
500g floury potatoes (e.g. Maris Piper or King Edward)
500g celeriac
1 garlic clove, crushed
1 pint or 568ml double cream
200ml creme fraiche
Method
Preheat the oven to 180°C. Lightly butter a large ovenproof dish. Peel and finely slice the potatoes. Peel the celeriac, quarter, and finely slice. Layer the vegetables in the dish.
Put the remaining ingredients in a large pan, bring just to the boil, the season. Pour into the dish, cover with foil and bake for 40 minutes. Check halfway through and flatten down with a spatula.
Uncover and bake for a further 10-15 minutes, until golden. Stand for 10 minutes before serving.
Story
Dauphinoise refers to a French recipe for potatoes in which the potatoes are sliced, layered in a baking dish and then baked au gratin with garlic, butter and cream. This is the perfect side dish with a roast dinner, but also just as good as a veggie main course with a salad!