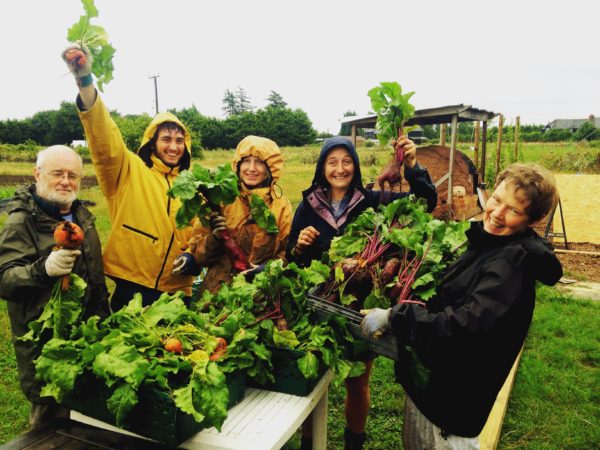 Healthy, beautiful, versatile, nourishing, easy to grow in the UK, resistant to cold, very delicious! What else would we want from a veg?!
Ancient food, powerful medicine and natural colorant
Beetroot is traditionally known for its ruby colour, but depending on the level of the pigment may also be found with gold, white or pink and white stripes. In the ancient Middle East, beetroots were grown primarily for their greens, and still today beetroot tops are considered by chefs as luxurious food. By the Roman era, it is thought that they were cultivated for their roots as well.
For centuries beetroots were used as a treatment for a variety of conditions, especially illnesses relating to digestion and the blood. High in iron, calcium, fibre and vitamins A and C, beetroots are still recommended as a powerful natural medicine for their high impact on cell function, reducing blood pressure, maintaining heart, immune system and skin health.
It is known that in the middle of the 19th century wine often was coloured with beetroot juice. In some traditions beetroots are used to colour eggs. If you decide to dye fabrics you can achieve gorgeous dusty pink colour.
The beetroot wall of fame
Mysteriously, beetroot is the only veg sold ready-cooked from greengrocers. It could be because of its long cooking time or staining caused to hands and chopping boards. We would recommend to get your beets raw and get cooking.
Boiling beetroots is probably the most popular way of preparing these gorgeous roots. You don't have to peel them beforehand. Boil gently for for about an hour (depending on size) until the skin will peel away easily.
Steaming is a very suitable alternative to boiling as it reduces the nutrients lost into the water. Our Beetroot, potato and fresh spinach salad is a good inspiration to start steaming your beets.
Roasting or baking beetroots is another easy and delicious way to cook them, but cover them with foil or a lid to trap the steam and stop them drying out. If you don't have time for chopping, you can simply wrap them in kitchen foil and bake for up to 2 hours, depending on size. Then pair with goats cheese. It's a perfect side for any dish. Our easy roast root curry is a quick and delicious way to enjoy your beets roasted.
The variety of soups that we can make with beetroots is endless. Beetroot, carrot and celeriac soup  shows how beetroot compliments most of the winter roots. Or bring some asian flavours into the kitchen with this Thai coconut and beetroot soup. Beetroot and cabbage borsch is a very popular recipe at the farm, often served to our Wednesday volunteers.
Stews, risotto and stir fried type of dishes. Beetroot pachadi is very inspirational recipe if you want to try some South Indian cuisine. Beetroot Hash with eggs is simple and tasty seasonal treat. This Creamy beetroot risotto is absolutely unmissable!
Tarts and pies. Beetroots can be used for all sorts of stuffing. This Beetroot sausage roll recipe is creative and delicious vegetarian alternative. Beetroot, goat's cheese and hazelnut tart is a beautiful centre piece or side for any occasion
Eat beetroot raw! We can't praise enough the taste of raw beetroot! And it's a speedy way to prepare them – just grated. Check out all these lovely salads: Seasonal Sprouting Katchumbar salad, Beetroot and carrot salad with orange and cumin dressing, Rice salad with beetroots and walnuts . And yes, beetroot is great for juicing! Our favourite combination is beet, orange, apple, celery and lemon.
Deserts. Naturally high in sugar, beetroots are fantastic in cakes and puddings. We love our Beetroot and chocolate cake which uses more beetroot than sugar. This Raw chocolate pudding with raspberry and beetroot is an absolute treat!
Beetroot loves
Garlic, cumin, basil, caraway, chives, cloves, coriander, dill, ginger, fennel, sage, thyme and tarragon. Cream, yogurt and goat cheese. Nuts, mustard and vinegar.