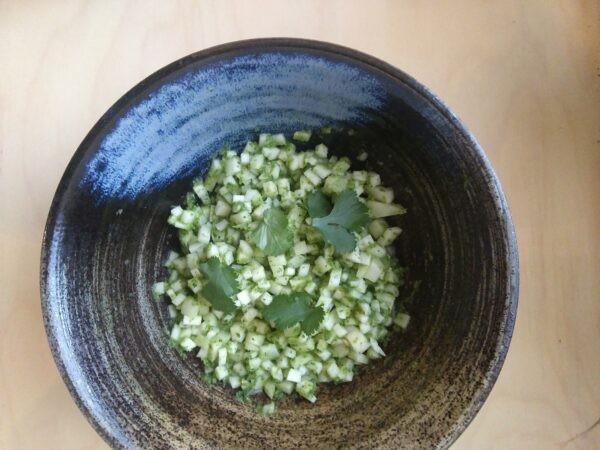 I like to use kohlrabi as a winter version of cucumber – it's refreshing crunch and slightly sweet flavour make it great to use in salsas like this. Enjoy your salsa on tacos, with roasted root veg in a wrap or with a piece of grilled meat or fish.
Ingredients:
1 

kohlrabi

Handful of coriander (you can just use the stalks if you have used the leaves for something else)
Smaller handful of mint leaves
1 green chilli, roughly chopped (or chilli flakes)
Juice of half a lemon or lime
Method:
First make the dressing using a small blender or a stick blender in a mug. Combine all the ingredients except the 

kohlrabi

, and blend until smooth. If the blender is struggling, add a little oil or water.
Peel the 

kohlrabi

 and cut into tiny, 2mm dice.
Mix the dressing through the 

kohlrabi

.
Taste and season with salt and pepper. If your chilli was hotter than expected, (like mine!) you can add a tiny pinch of sugar to temper the 

spice

.
Recipe design and photo: Alice