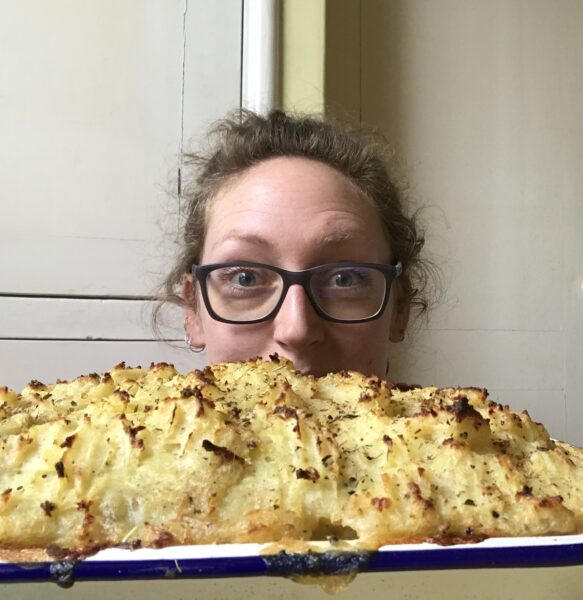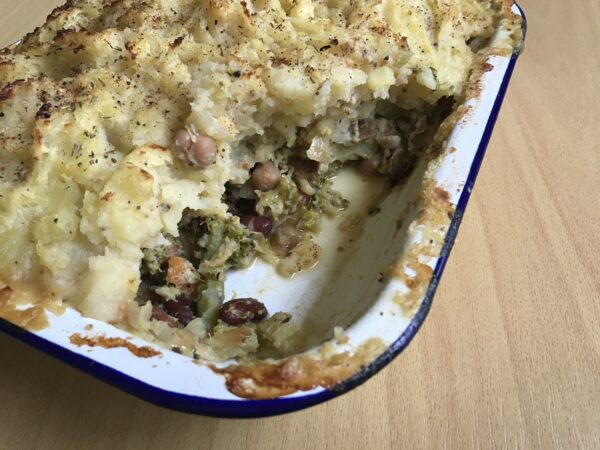 This is a great way to use up any "lurking" veg before your next VegBox delivery! Any kind of leafy green or other root veg will do and it's also easy to make it vegan by simply substituting with vegan butter or olive oil and plant-based milk.
Ingredients:
2kg potatoes
1 large onion, finely diced
2 garlic cloves, finely diced
any veg of your choice to fill half a baking/casserole dish (e.g. half a cauliflower, half a head of broccoli, 1 large carrot, and a sprinkling of sweetcorn and peas)
From the cupboard:
a generous pinch of nutmeg, or to taste
3 or 4 tbsp milk
3 tbsp butter or olive oil for the mash
2 tbsp of vegetable oil for the potato peel (optional)
2 more tbsp butter for the gravy
3 tbsp all-purpose flour (coconut flour works well too)

500ml (2 cups) vegetable stock, using 2 stock cubes

2 tbsp of your favourite dried herb (I use oregano)

3-4 tbsp yeast flakes, adjust to taste and consistency (optional)
1

 ½ 

cups (1 tin) of ready-to-eat beans of choice (soaked/cooked/drained where necessary)
Method:
1. For the mash: peel and chop the potatoes into roughly even-sized cubes. Steam (rather than boil, to retain nutrients) until tender. Drain and mash while adding butter or oil to the consistency of your choice. Add salt, pepper and nutmeg to taste.
2. Don't throw away the potato peels! This step is optional and may be a little unorthodox but I include them in my filling! Spread the peels as thinly as possible in a pan and fry in a little oil. Once the peels are starting to brown, I add the onions and garlic to soften alongside them. (Or if you prefer, you can make potato peel chips instead – great recipes 
here
 and 
here
).
3. If you're skipping Step 2 and instead feeding your peels to the worms, cook your other veg while the potatoes are steaming. I usually steam my chopped roots, add my leafy greens a couple minutes before the end and fry my onions, all until tender but not overdone!
4. Preheat the oven to 400 F / 200 C.
5. For the gravy: melt your butter in a saucepan (you can use the same saucepan you used for the potato peels). Once melted, add the flour to make a roux and cook over a medium heat for 2 mins, making sure not to burn the mixture. Add in roughly half a cup of stock and whisk as it thickens. Add in the other half cup as the mixture starts to thin and add oregano and a pinch of pepper to taste. I add yeast flakes at this point for a nutty, cheesy tang to the gravy and to help thicken it, but if preferable you can add grated cheese on top of the mash before baking. Lastly add your beans and simmer for 3-4 mins until thickened.
6. Mix your cooked veg into a dish (add sweetcorn and peas at this point if including), pour the gravy over the veg and mix it through.
7. Spoon a thick crust of mashed potato on top; seal in the goodness underneath and use a fork to create lots of peaks. Sprinkle a little extra nutmeg and oregano on top for additional colour. Bake for 20-25 mins or until the mashed potato is golden brown and crispy on the peaks and the filling is bubbling.