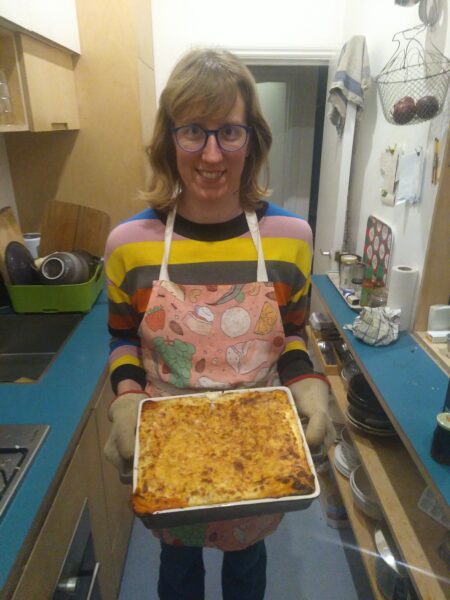 One of my favourite ways to eat chard is in a lasagne – it's strong savoury flavour stands out much better than spinach. I like to add the chard and any other veg to the bechamel layer where it compliments the creamy sauce nicely. If you have a tried and tested lasagne method already then you don't need to follow the instructions, just cook your chard and add it into the bechamel layer, I promise you won't regret it.
Ingredients:
250 – 300g Chard
1 or 2 leeks (or fennel also works well!)
2 garlic cloves, finely chopped
1 medium red or brown onion, finely chopped
From the cupboard:
100g parmesan, cheddar or other hard cheese
8-12 lasagne sheets
1 tbsp olive oil
3 x 400g can chopped tomatoes
700ml full-fat milk
70g plain flour
70g butter
nutmeg (optional)
Method:
Preheat your oven to 180 degrees C
Make the tomato sauce: In a pan, soften the onion in some oil for 5 mins, then garlic and cook for 1 min more. Add the tins of tomatoes and a pinch of sugar, then leave to simmer, uncovered, for 30 mins. Stir from time to time. Season to taste.
Cook the vegetables: Slice the stalks of the chard, and the leeks into 1cm slices and wash in plenty of water. Heat up a small amount of oil in a pan with a lid. When hot, add the leeks and chard stalks and cook with the lid on until softened. Stir occasionally to stop them catching, although a bit of caramelisation is good and adds flavour! When the veg is cooked, slice up the chard leaves, stir them in and cook for 2 mins more. Season with salt and pepper.
Make the bechamel: Melt the butter in a saucepan big enough to hold the milk. When it's melted, add the flour to make a roux and cook over a medium heat for 2 mins. Add the milk a little at a time and stir continuously to make a thick bechamel. Season well with salt and pepper, and a grating of nutmeg if you like.
Assemble the lasagne: Take a large ovenproof dish to assemble your lasagne in. Start with a layer of tomato sauce on the bottom. Follow with a layer of lasagne sheets, breaking them where necessary to fit in – you don't want them to overlap. Add a layer of bechamel, followed by the leek and chard mixture, followed by pasta. Repeat the tomato, pasta, bechamel and veg layers. Finish with pasta topped with bechamel and grated cheese, and a good grind of pepper.
The number of layers you have will depend on how big your pan is! You can make 2 smaller lasagnes too which is good for putting one in the freezer.
Bake for 30 mins until the lasagne is golden and bubbling, and a knife slips easily through the cooked pasta. Remove from the oven and leave to stand for 15 mins to give it time to firm up and cool to an edible temperature! Serve with a side of greenery like salad, or cabbage.
Recipe design: Alice Brown