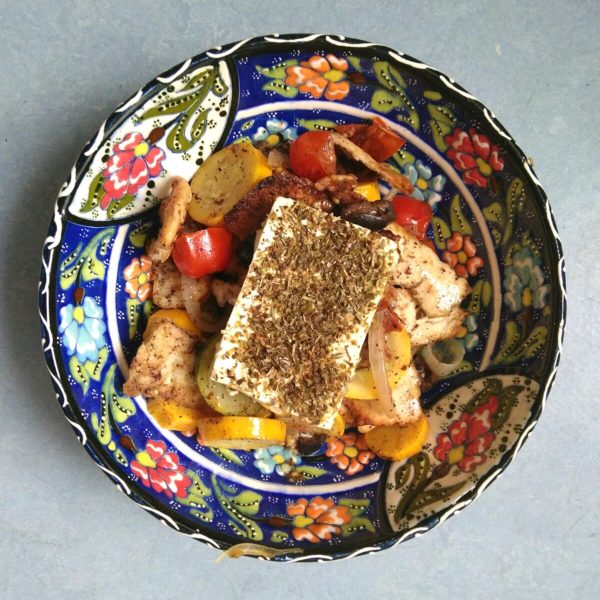 This warm salad includes toasted pitta which makes it a more substantial meal. Perfect for slightly chilly but still summery evenings!
Ingredients:
1 small onion

200g cherry tomatoes

1 courgette
From the cupboard:
100g pitta bread or ciabatta

olive oil

30g black olives

200g feta cheese

1 tbsp dried oregano

1 tbsp sumac

1 tbsp red wine vinegar
Method: 
Preheat your oven to 200 degrees C

Slice the onion finely, chop the tomatoes in half and the courgette into 1 cm slices. Toss with some olive oil and salt in a baking tray and put in the oven to roast for 15-20 minutes until starting to soften and blister.

Tear the pitta bread or ciabatta into bite sized chunks, toss with some olive oil and the sumac, and place on another roasting tray in the oven. Cook for 10 mins or until golden and crispy. Set aside until you are ready to serve. 

Cut the feta into 2 thinner slices. After the veg has been cooking for 15 mins, take the vegetables out of the oven and push them to one side to create some space on the tray. Place the feta in the tin, and sprinkle with the dried oregano. Return to the oven for 5 mins until the feta has softened. 

Meanwhile, whisk the red wine vinegar and 2 more tbsps olive oil in a large bowl. Add the olives, the crispy bread and the warm veg and mix together. Split into bowls and serve the warm feta on top.