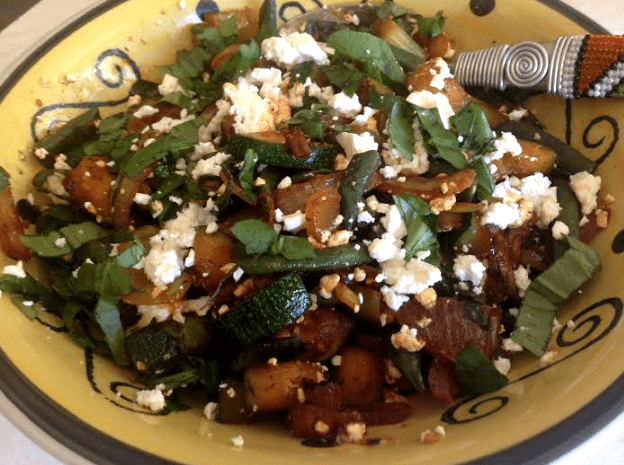 Serves: 6 as a side, 4 as a main. Prep & Cooking Time: 15 minutes
Ingredients:
400-500g courgettes

1 large onion
200g peppers
200-300g green beans (flat or round)
handful basil or parsley
From the cupboard:
cooking oil

½ teaspoon paprika

½ teaspoon dried thyme

½ teaspoon granulated garlic

splash of soy sauce
splash of balsamic vinegar
salt
100g feta cheese
Method:
Roughly chop the courgettes, onions and peppers. Chop the beans into halves or thirds. Fry in cooking oil for about 5 mins. Sprinkle with paprika while stirring. Stir-fry all the veg with a little bit of cooking oil. To allow the veg to get crispy, don't stir too often. Just before it's ready add the spices and soy sauce.
Transfer the veg into a serving bowl and drizzle with balsamic vinegar. Crumble the feta cheese and mix in while the salad is still hot.
Sprinkle with finely chopped basil or parsley.
This salad can be served hot or cold as a side. As a main it goes well with rice or noodles or you can simply eat it on its own.
Recipe and image by Pavlina.