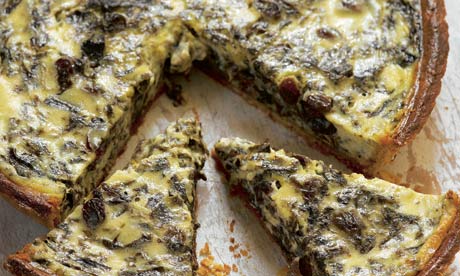 Sorrel is in season and we have been growing some at the farm, so this week you'll find some in your Medium, Large and Family Vegboxes. This wild plant is native from the British Isles and it's commonly used in sauces, soups, salads, stews and even smoothies. It's very similar to spinach in form and texture, however it has a lively fresh tangy taste to it.
Rich in vitamin C, due to its richness in oxalic acid, sorrel was used to prevent scurvy, a common disease in the Middle ages consequence of poor diets in fresh fruit and vegetables.  The English physician Culpeper (1826) recommended sorrel "to cool any inflammation and heat of blood," "to refresh overspent spirits," "to quench thirst, and to procure an appetite." Nowadays, it's still used in herbal medicine for it's cooling and diuretic properties.
Ingredients
300g sorrel
Knob of butter, about 15g
2 large eggs, plus 2 egg yolks
200ml double cream
200ml whole milk
75g icing sugar
50g raisins
For the sweet shortcrust pastry
200g plain flour
35g icing sugar
Pinch of salt
125g cold, unsalted butter, cut into cubes
1 large egg yolk
About 75ml cold milk (or water)
Preparation method
Make the pastry first. Put the flour, sugar and salt in a food processor and blitz briefly to combine (or sieve into a bowl). Add the butter and blitz (or rub in with your fingertips) until the mixture resembles breadcrumbs. Add the egg yolk, and enough milk or water to bring it together into large clumps. Tip out on to a lightly floured surface and knead gently into a ball. Wrap in clingfilm and chill for 30 minutes.
Heat the oven to 190C/375F/gas mark 5 and put a baking sheet inside. Roll out the pastry to fit a 24cm tart tin. Line the tin with the pastry, leaving the excess hanging over the edge. Prick all over with a fork and chill for 10 minutes more.
Line the pastry with greaseproof paper or foil, making sure the edges are covered, fill with baking beans or uncooked lentils or rice, and bake blind for 15 minutes. Remove the beans and paper, and cook for another five minutes, or until the pastry looks cooked but not browned. Leave to cool, then trim off the rough edges. Reduce the oven to 180C/350F/gas mark 4.
Remove any tough stalks from the sorrel. Wash the leaves, dry thoroughly and shred finely.
Heat half the butter in a large frying pan over a medium-low heat. Add half the sorrel and cook for a few minutes, stirring often, until collapsed and drastically reduced in volume. Transfer to a colander to cool. Repeat with the remaining sorrel. When cool, squeeze out the excess moisture with your hands.
In a wide bowl, whisk together the eggs, egg yolks, cream and milk. Sift in the icing sugar, whisk to dissolve, then stir in the raisins and wilted sorrel. Pour carefully into the prepared pastry case, using a fork to distribute the sorrel and raisins evenly. Bake for about 40 minutes, or until set and just golden. Leave to cool, and serve warm or at room temperature.
Recipe and picture from The Guardian online.