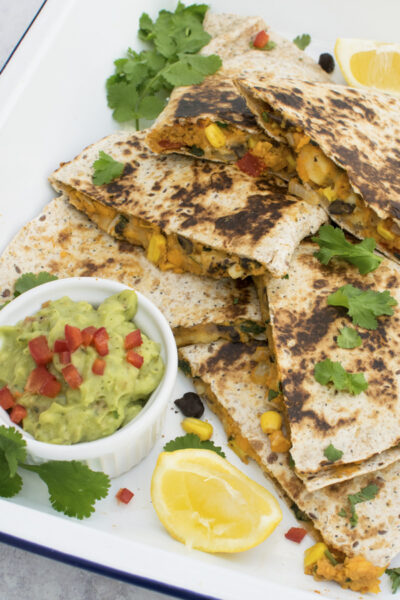 These vegetarian sweet potato quesadillas are quick and easy to make and absolutely scrumptious. I like to serve them with guacamole or a side of sour cream.
The tortillas are filled with a cheesy and smoky sweet potato, black bean, corn and red pepper mash. This dish is spiced with a delicious mix of cumin, coriander and smoked paprika.
Cooked in a frying pan or griddle pan, these sweet potato quesadillas are deliciously crispy.
Ideal for a quick family lunch or dinner, this recipe is so satisfying when you need a meat-free recipe everyone will enjoy.
For a plant-based version, you can easily swap the cheddar cheese for grated vegan cheese
Ingredients:
500g sweet potato [1.1 lbs]

1 handful chopped fresh coriander [+extra to serve]

1 small onion

1 garlic clove

1/2 red pepper
From the cupboard
1 tsp ground cumin

1 tsp ground coriander

1 tsp smoked paprika

3 Tbsp cooked black beans

3 Tbsp corn

lemon juice or salt to season (optional)

100g cheddar [3.5oz] (or plant-based cheese)

4 large flour tortillas

guacamole to serve

olive oil
Method:
Boil some water in a saucepan. Add peeled and chopped sweet potatoes. Cook for around 10mins until soft. When done, drain the sweet potatoes and mash them to a paste.

In the meantime, heat some olive oil in a frying pan. Add finely chopped onion, crushed garlic and diced red pepper. Cook for around 5 mins until soft.

Add ground cumin, ground coriander and smoked paprika to the onion mixture. Mix in the sweet potato mash, black beans, corn and chopped coriander. Season to taste with salt or lemon juice.

Spread 2 Tbsp of the vegetable mixture on a tortilla. Add 1/4 of grated cheese on top. Fold in half. Cook in a lightly greased hot frying pan or griddle pan for a couple of minutes on each side.

Repeat with the rest of the vegetable mixture to make 4 quesadillas in total. Cut each quesadilla in half. Serve with guacamole and fresh coriander.
Recipe design and picture by Annabelle Randles The Flexitarian