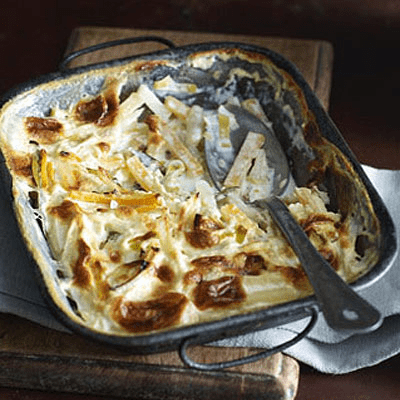 Here's a great recipe from Waitrose that combines the season's best produce – swedes, leeks and potatoes. If you don't have King Edward potatoes, why not try the Charlottes that are in your VegBox this week and if you don't have leeks, this dish also works with shredded kale or cabbage.
Serves: 4
Ingredients
1 tbsp olive oil
15g butter
350g leeks, thinly sliced
1 clove garlic, crushed
500g King Edward potatoes, peeled and cut into matchsticks
1 medium swede, peeled and cut into matchsticks
6–8 Bay Leaves (fresh), torn in half
150ml whipping cream
150ml semi-skimmed milk
Directions:
Preheat the oven to 190c, gas mark 5. Melt the oil and butter together in a frying pan and add the leek and garlic. Cook gently for 5 minutes until softened but not coloured.
Combine the leek mixture, potatoes and swede in a buttered 1.5 litre shallow ovenproof dish and season, layering in the bay leaves as you go. Mix the cream and milk together and pour over the vegetables.
Bake for 1 hour until the vegetables are tender and the top golden. Cover with foil if the gratin browns too much. Serve with a salad or steamed broccoli.