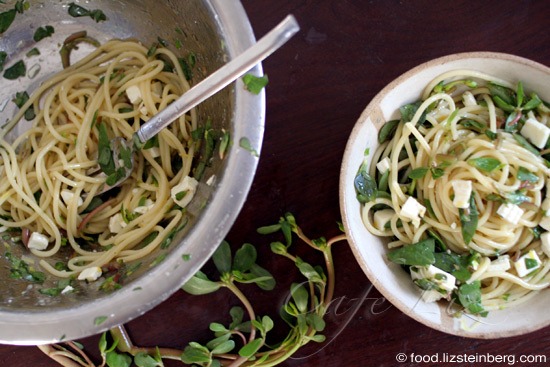 Prep time: 5 minutes
Cook time: 10 minutes
This recipe accommodates a 500g bag of pasta.
Ingredients:
1 bunch purslane (400 grams, or 3 cups chopped)
1 chunk feta cheese or another soft, mild cheese (400 grams, or 2-3 cups)
1/2 small garlic clove
zest of 2 lemons (about 1 tablespoon, or a bit more; use the lemons for lemonade or salad)
1/2 cup nice olive oil (you could use less, but it adds good flavor)
1/2 teaspoon sea salt
Directions:
Cook the pasta according to the instructions. Run under cold water to cool.
Rinse the purslane well — it tends to be sandy. If it's been sitting in the fridge for a few days, it will start losing leaves when you touch it, so you might want to rinse it in a strainer. Discard any large, tough stems, and roughly chop the rest.
Chop the cheese into little cubes.
Crush the garlic — we're using a small amount to add a hint of spiciness, but not too much. Mix with the lemon zest, olive oil and salt.
Toss all the ingredients with the pasta. The flavours will start to blend after the dish has been sitting for a few minutes.
Recipe from Food Lizsteinberg.