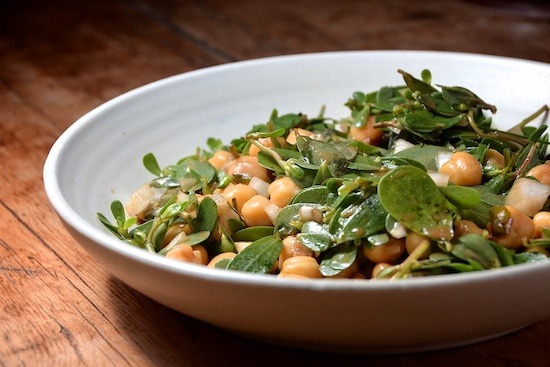 Serves 6
Ingredients:
2 cups of purslane leaves – washed and dried
2 15oz. cans of garbanzo beans
1 small onion – finely diced
2 tablespoons of olive oil
2 tablespoons of balsamic vinegar
1 tablespoon of dijon mustard
1 tablespoon of honey
1/4 cup of parsley – finely minced
Directions:
Make the dressing by whisking together the oil, vinegar, mustard and honey. Once mixed, add the parsley.
Mix the beans, purslane and onion in a large salad bowl. Toss with the salad dressing. Refrigerate for 30 minutes before serving.
Recipe from Stylish Cuisine.