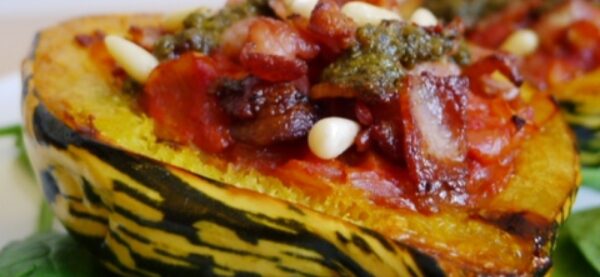 You can use a variety of small squashes suitable for stuffing for this recipe – such as acorn or carnival. Just adjust your quanitiy of filling to suit.
Ingredients
1 small squash, roughly 10cm in diameter
1 onion, diced
2 cloves of garlic, minced
300g peeled plum tomatoes
1/2 tablespoon tomato purée
A few springs of chopped fresh rosemary
Pinch of dried chilli flakes
4 rashers of bacon or equivalent amount of pancetta
Pesto for drizzling
Tablespoon of toasted pine nuts
Extra virgin olive oil
sea salt and black pepper
Method
1. Pre-heat the oven to 180ºC (fan).
2. Slice the squash in half (through the stalk as in the photo above), and scoop out the seeds and loose flesh. Place face-side down on a baking tray and drizzle with a little olive oil. Roast in the oven for 40 minutes.
3. Meanwhile make your tomato filling. Warm a little olive oil in a small saucepan, and soften the onions for 5-6 minutes. Add the garlic, then the plum tomatoes (breaking them up with the back of your spoon), tomato puree, a few sprigs of chopped fresh rosemary and a pinch of chilli flakes. Simmer the sauce while the squash roasts, keep stirring to avoid it sticking to the bottom of the pan. Season to taste.
4. Chop the bacon into tiny pieces and lightly fry on a low temp till it crisps up. Set aside.
5. Remove the squash from the oven, (the flesh should be soft but still holding together its shape), turn over and spoon the tomato mixture into each cavity. Top with the crispy bacon pieces and drizzle over the pesto. Return to the oven for a further 10 minutes.
6. When done scatter with toasted pine nuts and serve with a dressed green salad.
Recipe by Ceri Jones