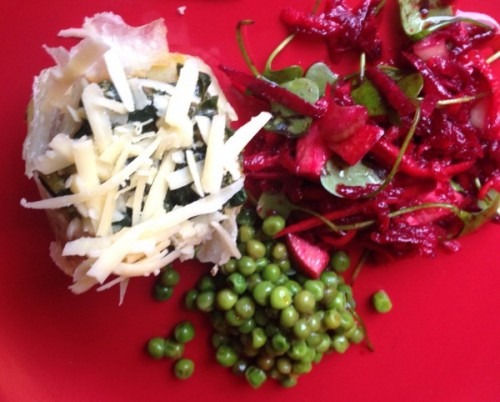 Serves: 4
Prep & Cooking: 30 – 45 minutes
Ingredients:
4 large or 8 small potatoes
1 leek
200g spinach, kale or any stir-fry veg available
handful of parsley
handful of fresh wild garlic (three-cornered garlic)
300g beetroot
1 large carrot
2-3 stalks celery
1 small red onion
winter purslane or any green salad available
1 large apple
From the cupboard:
100-150ml single cream
1 egg
50g mature cheddar
1 teaspoon paprika
cooking oil
olive oil
balsamic vinegar
salt to taste
Method:
Steam the potatoes with the skin on. Scoop out a medium-sized hole in each.
Stir-fry the leek and spinach with paprika for about 10-15 mins. At the end add the garlic, parsley and cream. When the mixture cools down a bit, add the egg.
Stuff the potatoes with the spinach mixture and bake at

180

° C until golden (about 10-15 mins). Switch off the oven and sprinkle the cheddar on top (leave the potatoes inside the oven until the cheddar melts).

The salad: Grate the beetroot and carrots. Chop the celery, red onion and apple. Add the purslane (or salad) and mix with olive oil, salt and balsamic vinegar dressing.
Recipe and image by Pavlina.