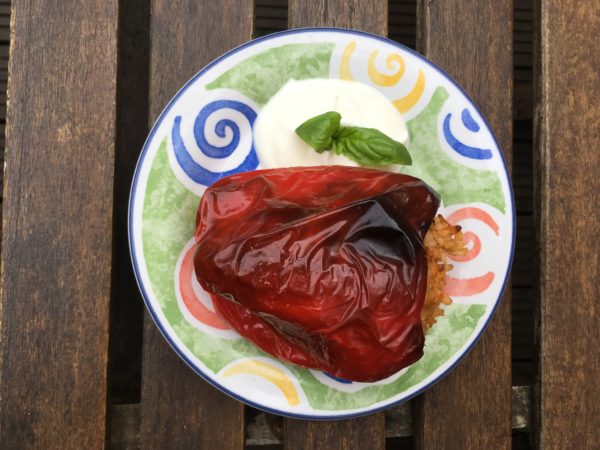 This traditional Mediterranean way of cooking peppers is extremely versatile as you can change the stuffing depending on what veg you have available. You can also change the veg to grain ratio as you like. For a gluten free, veg only version I sometimes make it with adding cooked pinto or red kidney beans instead of grains.
Makes: 2 big or 4 small peppers        Prep & cooking: 45-55 min
Ingredients:
2 big bell peppers or 4 small

1 onion

1 carrot

200-300g of seasonal veg (courgettes, beans, peas, mushrooms)

Handful of parsley or basil

3-4 cloves garlic
From the cupboard: 
150g rice or pearl barley

1 teaspoon paprika

Salt to taste

Cooking oil

Natural yogurt (optional)
Method:
Chop the onions, carrots and seasonal veg into cubes and stir fry in a cooking pot. 

When the onions get translucent add the grains (rice or barley) into the pot and keep stirring until they are well mixed with the veg and cook for about 3-4 min.

Stir inn the paprika and add boiling water to the stuffing. Apply 1:4 ratio water to grains. When all the water is absorbed crush the garlic into the mixture and the finely chopped herbs

Use a small knife to cut the top out of the peppers and shake out the remaining seeds. Stuff the peppers and arrange into a deeper baking dish. Boil water and fill the dish so it covers the peppers halfway.

Bake for at least 30 min at 180 degrees or until the skin of the peppers gets very dark. If necessary add water while baking.
Recipe design by Pavlina