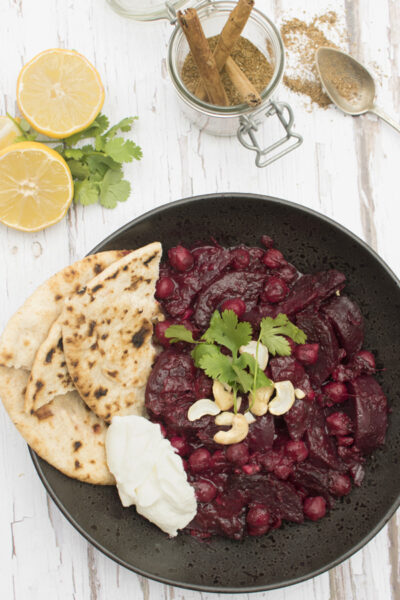 Prep Time: 5 mins            Cook Time: 55 mins          Serves: 6
This vibrant Sri Lankan-style beetroot curry recipe is bursting with flavours. Serve it with flatbread and a side of (dairy-free) yoghurt for a hearty lunch or dinner.
Make sure you do not cut the beetroot wedges too thick otherwise they will take quite a long time to cook.  This curry does not have a lot of sauce as I prefer a thicker consistency. You can adjust the amount of water and cut the beetroots matchstick size if you prefer something more moist.
The ingredients for the Sri-Lankan curry powder will make some extra that you can keep in an airtight container to use later on. I got inspired by Anna Jones and Rick Stein playing around a bit with the different flavours.
Ingredients:
700g raw beetroot

1 small onion

1 Tbsp freshly grated ginger

3 large garlic cloves
From the cupboard:
Sri Lankan Curry Blend:
1 Tbsp basmati rice

2 tsp coriander seeds

1 tsp cumin seeds

1 tsp fennel seeds

1/2 stick of cinnamon

5 cloves

1/2 tsp cardamon seeds

1 tsp fenugreek

2 tsp peppercorn

1 tsp mustard seeds

1/2 to 1 tsp of chilli flakes (depending on how hot you like it)
Curry
2 Tbsp vegetable oil

6 curry leaves

400ml water

400ml coconut milk

400g can chickpeas

lemon juice

fresh coriander

cashew nuts

(dairy free) yoghurt

flat bread
Method:
To make the Sri Lankan curry blend, heat a saucepan and add basmati rice. Dry roast until slightly brown. Add the rest of the spices and dry roast everything until spices start popping and release their aromas. Place mixture in a blender and whizz to a powder. Set aside.

Peel beetroots. Cut in 1 cm thick wedges.

Heat the olive oil in a large pan. Add finely chopped onion and fry gently for a couple of minutes. Add 2 Tbsp of Sri Lankan curry blend, 1 Tbsp freshly grated ginger and curry leaves. Fry gently for another 3 minutes or so.

Add sliced beetroot, crushed garlic and the water. Bring to boil, then reduce heat to medium and cook covered for 20 mins.

Add coconut milk. Cook uncovered for 15 to 25 mins until the sauce has thickened slightly and the beetroots are cooked. Add drained chickpeas. Season to taste with lemon juice and salt if needed.

Serve with fresh coriander and cashews on top and (dairy free) yoghurt plus flat bread on the side.
Recipe design and photo: Annabelle Randles/The Flexitarian