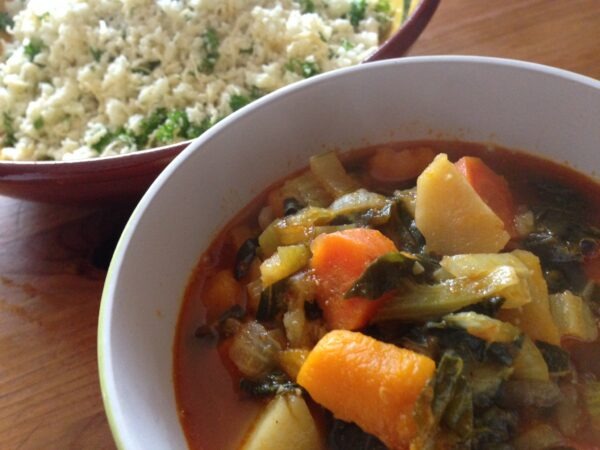 Serves: 4-6         Prep and Cooking: 40-45 minutes
Ingredients:
300-400g potatoes

600-700g squash

1 head of pak choi

1 large onion (white or red)

100-150g carrots

100-150g parsnips

1 head of cauliflower

parsley

½ lemon
From the cupboard:
cooking oil

olive oil

1 teaspoon curry powder (mild or hot)

1 teaspoon paprika

1 teaspoon cumin

½ teaspoon dried garlic

salt to taste

½ tin tomatoes

100g cheddar or parmesan
Method
Peel and cube the potatoes and squash. Chop the onions, carrot, parsnips and pak choi.

Start adding the prepared veg into a preheated cooking pot in the following order: onions, squash, carrots, parsnips, potatoes, pak choi. Leave a few minutes between adding each type of veg. Stir often.

When the greens soften and start changing their colour add salt and all of the spices. Keep stirring for a minute or so. Add the tinned tomatoes (preferably chopped) and cook for 5 minutes.

Add boiling water into the curry and cook until the roots are ready. Stir occasionally.
Cauliflower rice
Whizz the raw cauliflower in a food processor. If you haven't got one you can finely mince the florets.

Add chopped parsley, the juice of the lemon and salt.

Mix with finely grated cheddar or parmesan.
You can add crushed walnuts into the rice for extra flavour.
Image and recipe design by Pavlina