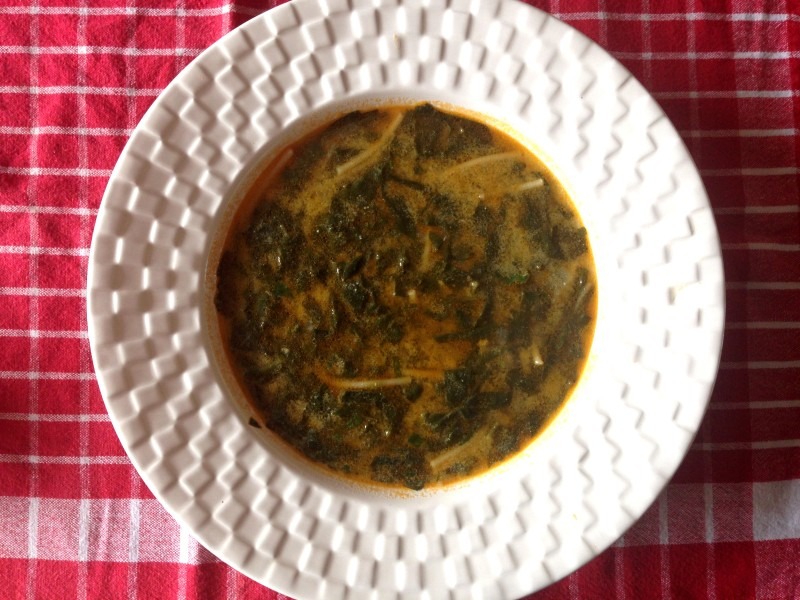 Serves: 4
Prep & Cooking: 30-35 minutes
Ingredients:
150g fresh spinach

100-150g pak choi
50g sorrel
1 leek or onion
handful of wild garlic or 2-3 cloves of garlic
handful of parsley
From the cupboard:
1-2 handfuls of noodles
1 egg
100g natural yoghurt
1 teaspoon paprika
½ lemon (the juice only)
cooking oil
salt to taste
Method:
Finely chop the leek, spinach, pak choi and sorrel. Stir-fry until the greens soften. Season with paprika and salt. Add 1 litre of boiling water.
Cook for 15 mins. Finely chop the parsley and crush the garlic. Add these along with the noodles and cook until the noodles are ready. Remove from the stove.
In a separate mixing bowl, whisk the egg with the yoghurt and lemon juice. Using a ladle, add the water from the cooked soup little by little whilst stirring (4-5 ladles).

Add the water mixed with the egg and the yoghurt to the pot. Keep stirring for a few minutes.
You can make this soup with only one type of green veg or a mixture of the above.
Recipe and image by Pavlina.