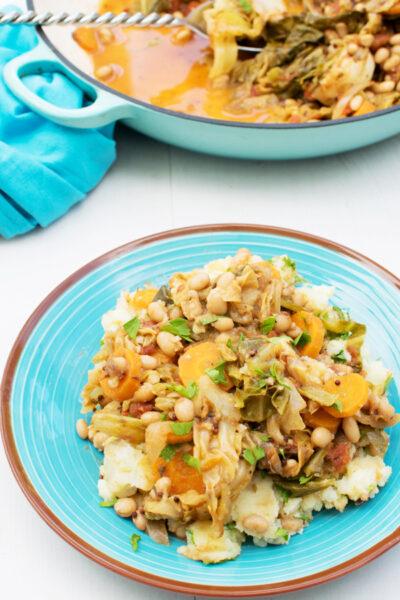 Ingredients:
900g savoy cabbage 

2 large carrots

1 medium onion

4 garlic cloves

juice of 1 lemon
From the cupboard:
2 x 400g can haricot beans

400g can chopped tomatoes 

2 tsp ground cumin

1 tsp caraway seeds

1 tsp fennel seeds

1 tsp black mustard seeds

2 tsp dried oregano

2 tsp smoked paprika

500ml vegetable stock [US 2 cups]

olive oil

salt & pepper
Method:
Heat some olive oil in a large saucepan.

Add finely chopped onion and crushed garlic. Fry for one minute. Add caraway seeds, fennel seeds, mustard seeds, smoked paprika, ground cumin, oregano along with the carrots cut in 1/2 cm thick slices [0.2 inch].

Fry all together while you prepare the cabbage.

Roughly chop cabbage in 2 cm slices [0.6 inch]. Discard the hard core.

Place cabbage in the saucepan, followed by the chopped tomatoes and the stock. Cover and cook for around 10 minutes under medium heat.

Stir well so the cabbage cooks evenly. Remove the lid.

Rinse and drain the haricot beans. Add to the saucepan, mix well and cook uncovered for another 10 minutes or so until the vegetables are cooked.

Season with lemon juice, salt and pepper.

Serve with mashed potatoes (for extra flavour, I like to add plenty of garlic and some chopped parsley to my mash).
Recipe design and image: Annabelle Randles/The Flexitarian