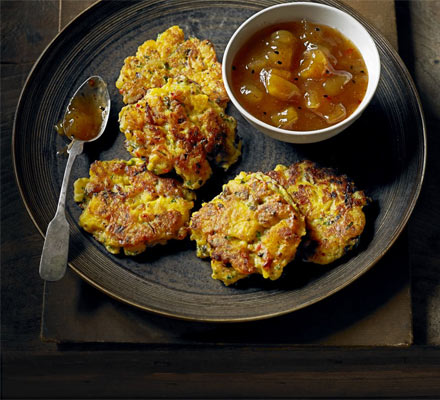 The swede is a surprisingly versatile veg and you can treat it very similarly to a potato, so mash it and crown a shepherd's pie with it or roast it into chips like these wedges with thyme and Parmesan.
Here's a recipe from BBC Good Food that makes the most of swede's mild and sweet flavour and there's also some invaluable information in their glossary on how to prep and store it.
Ingredients:
1 swede (about 650g), peeled and diced into small chunks
75g plain flour
100ml crème fraîche
1 egg, beaten
1 red chilli, deseeded and finely chopped
1 red onion, finely chopped
1 tsp cayenne pepper
2 tsp garam masala
½ tsp ground turmeric
1 tsp crushed coriander seed
small handful coriander, chopped
sunflower oil, for frying
mango chutney, to serve
Directions:
Cook the swede in a pan of boiling water for 15 mins until tender, then drain well. In a large bowl, mix together the flour, crème fraîche and egg to make a smooth, thick batter. Stir in the chilli, onion, spices and coriander, then season generously. Very roughly mash the swede and stir into the mixture.
Heat a splash of the oil in a large non-stick pan and cook small, flattened spoonfuls of the mixture for 2 mins on each side until crisp and browned. Serve hot with chutney.