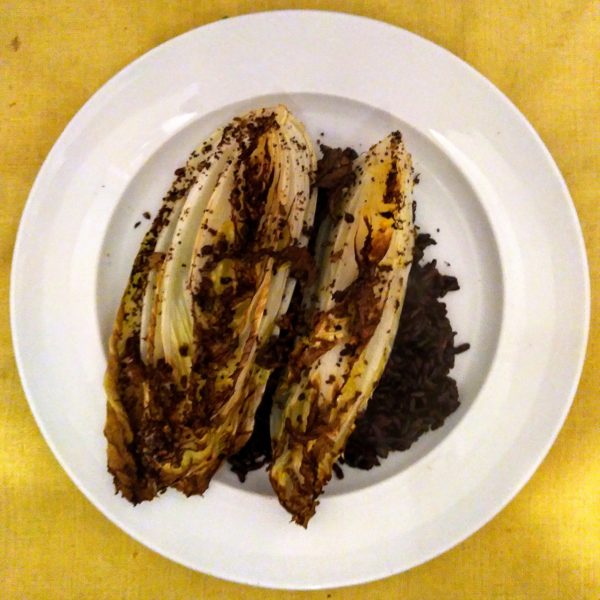 Sichuan peppercorns are reddish pink and available in big supermarkets or oriental shops. They give a very distinctive citrus flavour and numbing sensation in the mouth so are worth tracking down.
Roasting is a delicious way to use tender varieties of cabbage like napa (AKA Chinese leaf) or sweetheart – the outer leaves become crispy and the inner leaves moist and succulent. You can also use red, savoy or white cabbage but the cooking time will might be a little longer, and you should flip the wedges over after 15 minutes. If you enjoy the roasted cabbage, try different flavours and toppings – parmesan and walnuts is another great combination!
This is another adaptation from
The Green Roasting Tin
which I cannot recommend highly enough for delicious mid week dinners.
Ingredients
1 cabbage

250g Mushrooms (optional)
From the cupboard
1 heaped tsp sichuan peppercorns

1 tsp sea salt

Rice or noodles to serve
Dressing
1 tbsp soy sauce

1 tbsp sesame oil

A pinch of chilli flakes

2 tbsp sesame seeds
Method:
Preheat the oven to 200 degrees C (fan)

Cut the cabbage into long quarters or sixths, keeping the stem intact so the leaves are still attached. Roughly tear the mushrooms into bite sized pieces.

Drizzle the mushrooms and cabbage with sesame oil and rub all over the veg, getting the oil into the leaves of the cabbages

Lightly crush the sichuan peppercorns in a pestle and mortar and sprinkle over the veg with the salt.

Roast in the oven for 25 minutes or until the cabbage is tender in the middle and the outer leaves are crispy

Meanwhile, cook your noodles or rice. I served mine with black rice, my new favourite grain!

Mix all the dressing ingredients together ready to drizzle over the cooked cabbage
Recipe adapted by Alice