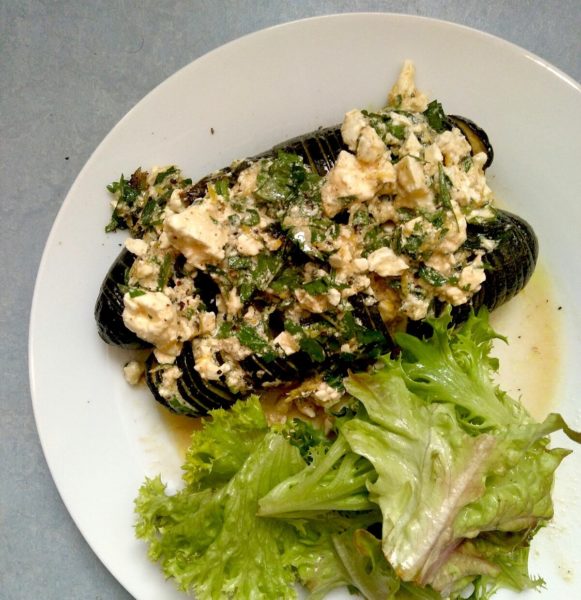 Having never been convinced by roasting courgettes, I decided to give this Nigel Slater recipe a try. It worked really well, the juices of courgette blending with the lemon juice – delicious mopped up with plenty of Blackbird sourdough! Alternatively you could serve with some simple boiled potatoes.
Ingredients:
1 medium courgette per person

1 handful of fresh herbs – parsley, mint, basil, thyme or a mixture!

1 small lemon
From the cupboard:
2-4 tbsp olive oil

100g feta per person
Method: 
Place the courgettes on a chopping board and slice each one at half-centimetre intervals, cutting almost through to the board, but leaving the slices attached to each other. Put the courgettes in a small roasting tin, holding them together as you lift, and baste them with 3 tbsp of olive oil.

Bake the courgettes for 40 minutes or until they are tender, basting halfway through cooking with roasting juices in the tin.

Crumble the feta into a mixing bowl, and mix with the finely chopped herbs and zest of the lemon.

Remove the courgettes from the oven, transfer to a serving dish or plates, then slice squeeze the juice of half the lemon (for 2-3 medium courgettes, use the whole lemon if you are cooking more!) into the roasting tin. Pour the roasting juices into the feta and parsley then spoon over the courgettes.

Serve with green salad and crusty bread, or with boiled potatoes.
Recipe adapted by Alice