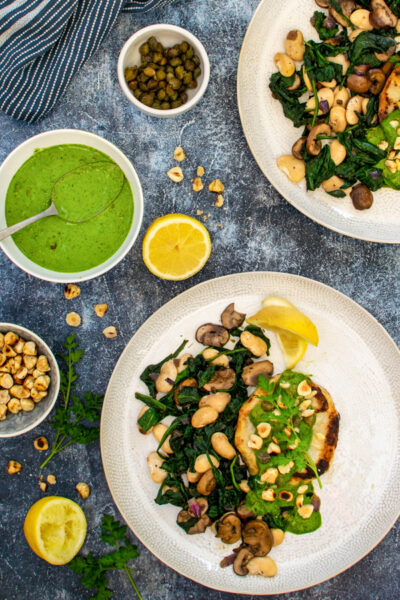 Ingredients:
For the mushroom and spinach saute
1 red onion
3 garlic cloves
300g mushrooms
260g spinach
1 tsp dried

 

thyme
400g cannellini beans
For the green tahini sauce
20g parsley
30g basil
1 garlic clove
75g tahini
75ml water
½ tsp ground cumin
2 Tbsp capers – roughly chopped
Juice of 1 to 2 lemons
1 to 2 Tbsp of maple syrup
75g hazelnuts
Method:
Preheat the oven to 200°C/ 180 Fan.
Peel celeriac. Cut it in four 2-cm thick slices / steaks (keep the edges to make soup or vegetable stock)
Heat some salted walter in a pan. Parboil the celeriac steaks for 10 mins until tender.
In the meantime, heat some olive oil in a frying pan. Add finely chopped red onion, crushed garlic. Fry gently until soft. Add finely sliced mushrooms and dried thyme. Fry gently for 10 mins until they are cooked and have a nice golden brown colour. Add spinach and cook until wilted. Add the cannellini beans to the pan. Season to taste. Stir all together and keep warm. You can make the tahini sauce (see step 6) while the mushrooms are cooking.
When the celeriac steaks are done, pat them dry. Place them in a roasting tin.

 

Drizzle with some olive oil and season with salt and pepper on both sides. Roast for 15-20 minutes until golden.
In the meantime, blend together all the ingredients of the green tahini sauce (except for the capers, lemon juice and maple syrup). Transfer to a bowl. Add chopped capers. Season to taste adding more lemon juice and /or maple syrup.
Toast hazelnuts in a pan. Set aside.
Serve the celeriac steaks with the vegetables. Top with green tahini sauce and toasted hazelnuts.
Recipe design and photo: Annabelle Randles/The Flexitarian