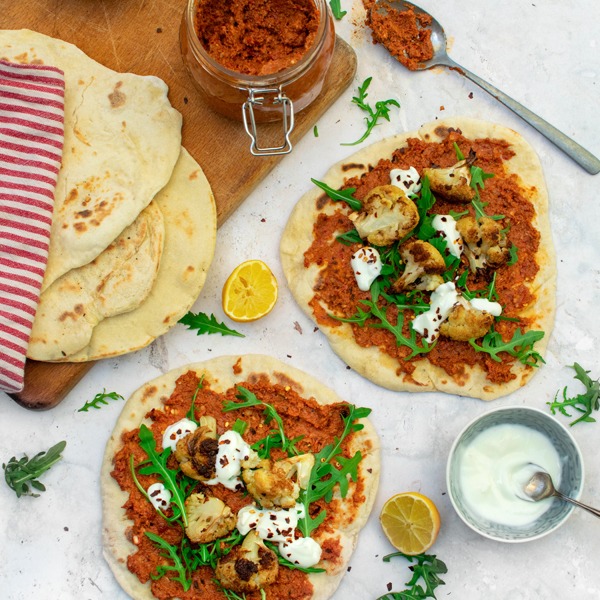 My quick muhammara recipe makes the ideal topping for this dish. This hearty and vibrant Middle Eastern dip is made with juicy roasted peppers blended with walnuts, garlic, tomato paste, pomegranate molasses, chilli flakes, breadcrumbs, lemon and olive oil.
Ingredients:
FOR THE FLATBREADS:
300 g plain flour

2 tsp baking powder

1 tsp salt

1 Tbsp olive oil

300g dairy-free yoghurt or plain dairy yoghurt
FOR THE MUHAMMARA DIP
225g roasted red pepper from a jar – drained & roughly chopped

100g walnuts

1 garlic clove grated

2 Tbsp tomato paste

2 Tbsp pomegranate molasses

2 tsp Aleppo chili flakes or 1 tsp chili flakes

75g breadcrumbs

1 tsp sumac

1 tsp cumin

1 lemon juice to taste

4-5 Tbsp of olive oil

salt
FOR THE ROASTED CAULIFLOWER:
1 small cauliflower – approx 600g / 1.3 lbs

olive oil

salt
TO SERVE
rocket leaves

dairy-free yoghurt or plain dairy yoghurt

chilli flakes

lemon juice
Method:
In a bowl mix together the flour, baking powder and salt. Add the yoghurt and olive oil and knead until you have a smooth and elastic dough. Add a bit more flour if the dough is too wet. Cover and set aside for 20 mins to rest.

Preheat the oven to 200°C / 180°C Fan / Gas 6.

Make the muhammara dip by following this recipe. Set aside when done.

Cut the cauliflower into medium chunk florets. Spread on a baking tray. Drizzle some olive oil on top and add a little bit of salt. Place the tray in the oven and roast the cauliflower for 25-30 mins until golden. Keep warm when done.

While the cauliflower is in the oven, you can start cooking the flatbreads. Cut the dough into 6 even balls. Add flour to your working surface and roll out each dough ball to a 21-23cm circle [8-9″].

Heat a non-stick pan on high. When the pan is very hot, place the first flatbread in it. Do not use any oil or grease, simply cook the flatbread 2 mins or so on each side until it starts to char. When done, keep it covered in a warm oven while you cook the rest of the flatbreads.

When ready to serve, spread some muhammara dip on each flatbread. Add some roasted cauliflower on top. Top with some rocket leaves, yoghurt, chilli flakes and extra lemon juice.
Making the Muhammara dip
Place the chopped peppers in the bowl of a large food processor. Add walnut, grated garlic, tomato paste, pomegranate molasses, chilli flakes, breadcrumbs, sumac and coriander. Blend all together until smooth. Mix in the olive oil. Transfer to a bowl. Season to taste with lemon juice and salt.

Serve at room temperature. Keep in the fridge in an airtight container.
Recipe design and picture: Annabelle Randles/ The Flexitarian