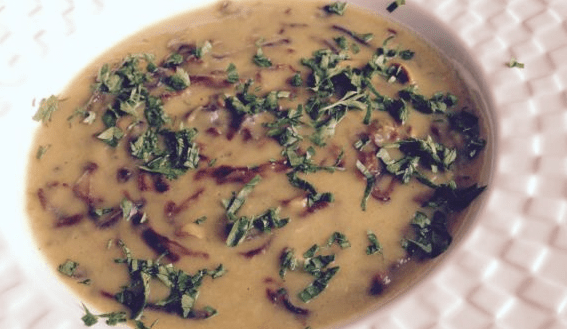 Serves: 4         Prep and Cooking: 30-35 minutes
Ingredients:
1 large potato

1 leek

1 large parsnip

1 cabbage (red or white)

200g mushrooms

3-4 cloves garlic

1 stalk celery

lemon (optional)

handful of parsley
From the cupboard:
cooking oil

1 tablespoon olive oil

½ teaspoon paprika

½ teaspoon cumin

½ teaspoon turmeric

salt to taste
Method:
Peel and cube the potatoes and parsnips. Roughly chop the leeks. Place in a cooking pot and boil with salt (to your taste) until cooked.

Whizz with a hand-blender adding the olive oil as you go.

Finely chop the cabbage and celery and cube the mushrooms. Stir-fry in a deep frying pan until the cabbage is cooked (add a bit of salt to release the juices from the vegetables). When ready, season with paprika, cumin and turmeric. Fry with the spices for a minute or so.

Add the cabbage, mushroom and celery mixture into the whizzed soup.

Serve with lemon juice (optional) and sprinkle with finely chopped parsley.
Tips:
The best varieties of white cabbage for this soup are Savoy, Sweetheart or January King.
You can replace the cabbage with any leafy greens that you have available (kale, pak choi or spinach)
Recipe design and image by Pavlina