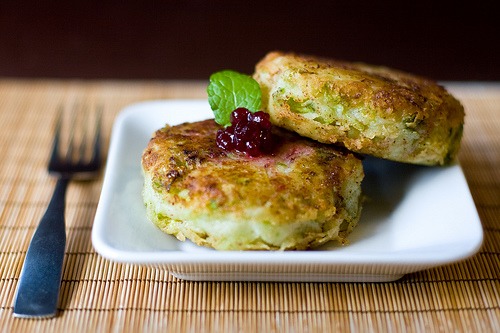 If you're catering for Christmas, there's a good chance that you've got all your recipes ready by now – so here's a morning-after recipe to use up those leftovers. It's a comforting recipe perfect for a day of slobbing around in your PJs – or to warm you up after a bracing Boxing Day walk. And it uses the potatoes and sprouts in your Sutton Community Farm Christmas dinner vegbags. You can of course adapt this vegan recipe by using butter instead of margarine.
Bubble and Squeak Cakes
Makes 8 Cakes
1 kg (2+ pounds) Potatoes (I used around 10 red potatoes, any kind will work)
4 Tbs Margarine
400-500g (14-17 oz) Brussels Sprouts
1/2 Cup All Purpose Flour
Old Bay Seasoning (1/2 tsp and 1/4 tsp)
Oil for frying
Bring a large pot of well-salted water to a boil. Peel and chop potatoes into bite sized pieces. Smaller red potatoes need only be quartered. Add potatoes and boil for 12-15 minutes or until tender.
Meanwhile, chop the ends off the brussels sprouts and remove any bad looking leaves. When there is five minutes left of the potatoes, add the sprouts and cook for four minutes. After four minutes, remove them with a slotted spoon to a bowl filled with ice water to stop the cooking.
Drain the potatoes and return back to the hot (empty) pot you boiled them in. Turn the heat down to low and let the potatoes dry for 1-2 minutes.
While the potatoes are drying out, drain the sprouts and pat them dry. Shred them finely with a chef's knife.
Add the margarine to the potatoes and mash well. Mix in the sprouts and 1/4 tsp Old Bay seasoning (or salt) and taste for flavor, adding more seasoning if desired. Set aside until cool enough to handle.
Mix the 1/2 cup flour with 1/2 tsp Old Bay (or salt). Heat a large, cast-iron skillet over medium heat with 1/4″ oil in the bottom.
Break up the potato mixture into 8 rough patties.
Gently form each one into a smooth, hockey puck like shape. Dip the cake in the seasoned flour mixture. Be gentle, and do this for each patty.
Fry 3-4 patties at a time for 2-3 minutes a side, until golden brown. You may need to re-dip them in flour right before putting them in the oil, so keep it handy. Use two spatulas (or a spatula and a flat wooden spoon) to turn the cakes; you don't want to splash hot oil all over yourself.
Place fried cakes on a baking sheet with parchment paper.
Serving
Preheat oven to 375º F.
Once all the cakes are fried, you can place the whole sheet of them in the oven for 15 minutes to re-heat and re-crisp them in time for your meal. You can also refrigerate them for up to three days (reheating in the same manner), or freeze them for a month.
I served mine with some lingonberry preserves (that I bought at Ikea. Shhh!), but cranberry sauce or your favorite gravy will go very nicely.
Recipe and photo from Veganyumyum