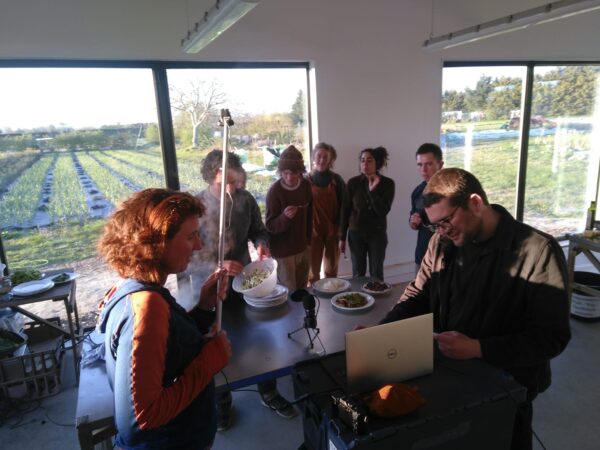 Our housewarming barn party was quite different from what we've imagined. Since we would be missing the live interaction with our farm community we relied on cooking food to bring us together. 
We asked our community of members and volunteers to tell us what veg they need inspiration for when they registered for the event. Then Joris, Pavlina and Will shared their simple recipes ideas for the most requested veg- beetroot, fennel, chard and kale. We had a lovely time cooking and tasting the food, and it was great to hear the audience's recipe ideas too! Hopefully it won't be too long before we can welcome you to the farm and eat together, but in the meantime we wanted to share our cooking inspiration!  
Beetroot
First steam your beetroots whole. You should leave the peel on, but scrub them thoroughly beforehand. Depending on their size, steam them for 30 – 45 minutes until a knife easily slides through. Then you can transform your beetroot into many different dishes – here's some ideas! 
Beetroot and goat's cheese salad. 
Cut your steamed beetroots into half moons. Mix with bigger chunks of goat cheese. A little olive oil and balsamic vinegar and it's done! Adding walnuts (toasted in a pan or the oven for 10 mins) is always a winner with beetroots.
Beetroot, lentils, parsley and feta salad
Beetroots love softer cheeses so feta also works well. This time cut your steamed beetroots into cubes and mix with cooked lentils (we used puy lentils in our recipe but any type will work well. You can buy them in a tin or cook them yourself). Dress your salad with olive oil, lemon and parsley Add feta cheese on the top and another beetroot deliciousness is done!
Beetroot and celeriac hummus
Steam some celeriac along with your beetroot (cut the celeriac to a similar size as your beetroot! Roughly chop your steamed veg and place into a blender. Add cumin, a bit of garlic, roasted sesame seeds and olive oil. Whizz for a couple of minutes until the mixture is fluffy and you can't see any more chunks of veg in it. Great as a dip, but also why not try spreading in a sandwich! 
Roasted Beetroot and chickpeas on yoghurt with rose harissa
Cut the beetroot into small chunks or moons. Roast the beetroots for 20 mins or until slightly dark at the edges with olive oil – this enhance their natural sweetness. Fry your cooked chickpeas in olive oil and smoked paprika for 5-10 min. In a plate swirl rose harissa  yogurt. Put the chickpeas and beetroots on the top. Sprinkle over some zatar spice.
Fennel
Making salads and stir fries with fennel is a quick and delicious way to enjoy it. You can prep your fennel by slicing it thinly. Celeriac goes really well with fennel so keep slicing and add it to your salad and stir fry mixture. A food processor or mandoline helps here if you are feeding lots of people, but a sharp knife is often easier for small portions. Here are 3 ways to use fennel and celeriac together.
Grated fennel and celeriac salad with feta
Season the sliced veg with salt and pepper (but remember the feta will be salty too). Dress with olive oil, lemon and parsley. Leave to rest for 15 mins or more – the longer you leave it, the more tender the veg will be. Just before serving, mix in some crumbled feta. 
Spicy stir-fry
Mix the prepped veg with grated ginger and garlic, and sliced onions. Quickly stir fry with toasted sesame oil. To finish add soy sauce and toasted sesame seeds.
Grated fennel and celeriac salad with yogurt
Season the sliced veg with salt, pepper and thyme. Dress with yogurt. 
Alternatively, you can cook fennel and treat it similarly to an onion or leek – slow, steady cooking to make it soft and tender and bring out the sweetness.
Slowed cooked fennel with dill
Trim the fennel and cut into 6 (keep any soft green fronds to add at the end). Fry them in olive oil on high heat for 5 minutes and then turn it to a low heat for 15 min. Add thinly sliced garlic and roughly chopped dill and stir fry for another 5 min. Add water (1 table spoon per fennel bulb). Cook for 10 more minutes to evaporate the water and the fennel is nice and soft. Add lemon, salt and pepper and sprinkle with the fennel fronds.
Purple sprouting broccoli
Purple sprouting broccoli is a great veg asset during the Hungry gap. Blanching is probably the easiest way to have them. Serve with creme fresh and freshly squeezed lemon. 
Kale
Kale is delicious both cooked and raw. Here is what we quickly made with it.
Kale pesto
Simply throw raw kale, olive oil, hard cheese (optional) and nuts into your blender and whizz until creamy. Season with salt, pepper and a little lemon or vinegar if it needs brightening up. Serve with bread, cheese or mix into a potato salad. Any type of pesto freezes well. 
Kale salad  
Boiled the kale in salted water for 5 minutes until tender. Dress with soy sauce sweetened with honey and add  raw grated ginger and garlic, sliced chillies and coriander.
Chard
Chard is a versatile leafy green with beautiful colours; it's rich savoury flavour loves both robust spices and creamy dairy.Always cook the stalks and the leaves – just cut the stalks into smaller sections than the leafy part so they cook evenly. Start by boiling chard in salted water for 3-4 minutes , squeeze out excess water and then use it in the same way as spinach. 
Potato and Chard Salad
Mix the  cooked chard with cooked potatoes, mayonnaise and your choice of seasoning (mustard, garlic, lemon)
Simple Chard Side Dishes
You can also dress the boiled chard with olive oil and squeezed lemon or simply toss it in butter and garlic.
Chard quiche with Gruyere cheese
When you have more time to cook, a quiche is always a good idea! Blind bake a  shortcrust pastry base and leave it to cool down. Meanwhile quickly stir fry your chopped chard, Season with salt and thyme. Place into the crust and pour over 3 eggs and 200g Gruyere. Bake for about 40 minutes (until golden brown)