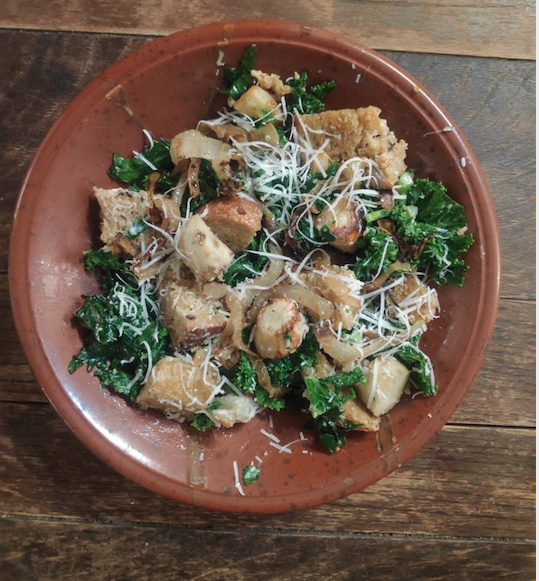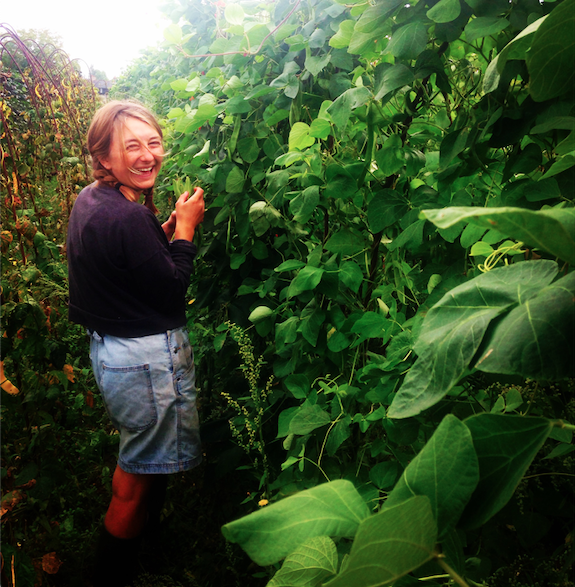 I learnt this recipe from the lovely people at Better Health Bakery in Haggerston. It's a great one for this time of year when Jerusalem artichokes and kale are plentiful!
To make this vegan, just substitute with vegan mayo and parmesan, or leave out the parmesan.
Ingredients:
500g Jerusalem Artichokes
300g Kale – tender Red Russian is best for this, but any variety will do if not
1 large onion
Day old bread
For the dressing:
1 garlic clove, crushed
1 tsp Mustard – Dijon or wholegrain
2 tbsp Mayonnaise – option to substitute yoghurt for some of the mayo
About 1 Lemon (to taste)
Olive oil
Parmesan, finely grated
Black pepper
Salt
Method:
1) Preheat the oven to 220 degrees (fan)
2) Peel (or just scrub) the jerusalem artichokes and chop into chunks. Place on a tray and toss with oil and salt. Put them in the oven for around 30 mins, or until golden brown and nice and soft.
While they're in the oven:
3) Chop the onion into slices and place in a frying pan on a medium heat to soften slowly, then turn up the heat at the end until brown and slightly crispy.
4) Slice up the kale and put in a large bowl. If cooking with tender kale like red russian, you can leave the stalks in the mix, but if the stalks are tough then remove them and keep to one side.
5) Squeeze over the juice of half a lemon, and sprinkle with some sea salt. With your hands, mix around to coat the kale and then give it a good squeeze, massaging in the salt and lemon juice until the leaves start to tenderise. Cover and leave to one side.
6) Chop up your bread into large chunks, coat lightly with olive oil, salt and pepper and place on a tray.
7) Once the jerusalems have been in the oven for about 20 minutes, pop the bread in for the last 10 minutes of cooking time until they're golden brown and lightly toasted. If you removed the kale stalks, then chop them up and add them into the tray with the artichokes too, to soften.
8) To make the dressing, combine together all the ingredients above to taste, and whisk until smooth. Thin with olive oil or more lemon juice until you have a fairly runny consistency
To assemble!
9) Pop your roasted jerusalems (and kale stalks) and croutons to the tenderised kale in a large bowl. Add the dressing and toss around to mix.
10) Serve topped with the crispy onions, grated parmesan and black pepper, and any leftover dressing. (Also tastes really good with a little truffle oil on top!)
For a more substantial meal, you can also serve with little cubed roast potatoes.