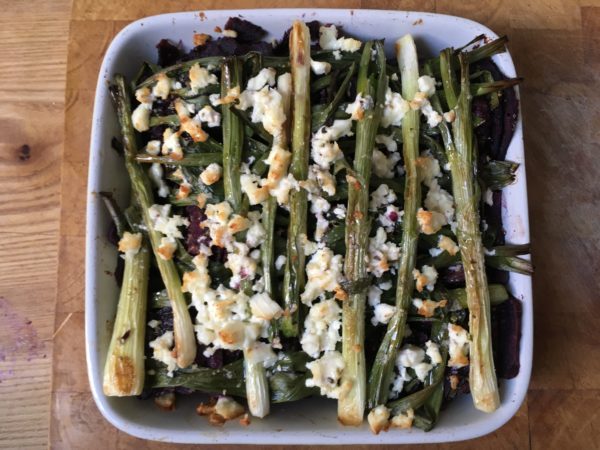 Portions: 4 as main, 6 as a side         Prep and Cooking: 50 min
Ingredients:
600-700g sweet potatoes

4-5 spring onions

1/2 lemon
From the cupboard:
Cooking oil

150g olive oil

2 teaspoons oregano

Ground black pepper to taste

Salt to taste

150g feta cheese
Method:
Peel and thinly slice the sweet potatoes into rings

Blanch the slices for 3 minutes

Arrange the rings upright into a deep baking tray

Make a dressing with the juice of the lemon, olive oil, oregano and black pepper. Divide it in two

Use one part of the dressing to season the sweet potatoes into the baking tray while they are warm.

Bake for 15 min.

Meanwhile cut the spring onions in three or two (depending on how long is your tray). In a greased frying pan fry the spring onions quickly with a bit of salt and leave until the sweet potatoes are ready.

Arrange the spring onions onto the baked sweet potatoes. Sprinkle with feta and season with the rest of the dressing. Bake until feta melts and gets brown.
Recipe design and Image by Pavlina