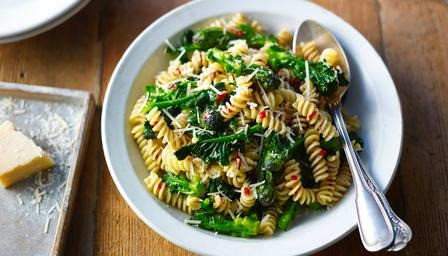 We are very proud to be able to deliver our own Purple Spruting Broccoli in this week's Vegboxes.  And this is a very good premonition, as winter has ended, change is coming and very soon you won't remember about any of those root vegetables.
This variety of broccoli just feels a bit more delicate and sophisticated, with its intense green and purple colours. It's also very easy to cook as you can steam it and eat it just with a bit of olive oil, lemon juice, salt and pepper. And to show you how easy it is to make a good, light and healthy dish with Purple Sprouting Broccoli we have chosen this simple pasta recipe.  It will take less than 30 minutes to prepare and you won't find any strange or difficult to find ingredients.
Recipe and picture from BBC Good Food
Ingredients
1kg/2¼lb purple sprouting broccoli
1 medium sized fresh red chilli (not too hot)
2 cloves garlic, peeled
1 small tin of anchovy fillets in olive oil, drained
good quality olive oil
350g/12oz pasta fusilli, oriecchiette, penne rigate or conchiglie are the most suitable shapes
4 tbsp freshly grated parmesan or hard pecorino cheese
salt and pepper
Preparation method
Put a large pan of water on to boil with a little salt. Trim the outer leaves and woody stalks from the broccoli. Wash the good bits and chop into 1cm/½in sections. Cut the chilli in half lengthways and scrape out the seeds and the attached pith. Chop the chilli flesh, the garlic and the anchovies finely.
In another large pan warm four tablespoons of olive oil over a medium flame and add the chilli, garlic and anchovies. Gently fry these for a minute or so and add the broccoli, season with a little salt and pepper, then continue to cook gently while the pasta boils.
Drop the pasta in the boiling water and stir immediately. Cook until just tender with a little bit of resistance to the bite (al dente). This could take anything between 7 and 12 minutes depending on the type of pasta you choose.
When the pasta has nearly finished cooking, transfer a small ladle of the cooking water to the broccoli and continue to cook over a high heat until tender.
When cooked, drain the pasta. Add another two tablespoons of oil and the cheese to the broccoli. Toss with the drained pasta and serve immediately.