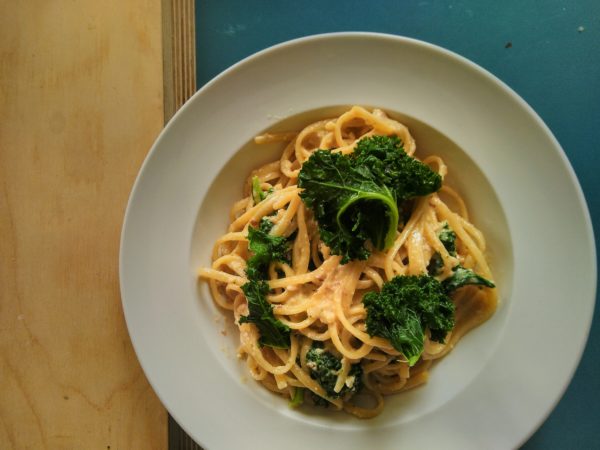 Serves: 2                                        Prep & cooking: 30 min
Ingredients:
100-200g kale (broccoli)

1 clove garlic
From the cupboard:
200g pasta

50g walnuts

30g stale bread or breadcrumbs

2 tbsp milk or water

40g parmesan (optional)

75 ml olive oil

50 ml tepid water
Method:
Soaking the walnuts creates a delicious creamy sauce in this unusual but simple pasta dish. I like to make twice as much walnut sauce – it freezes well! You can leave out or replace the parmesan for a vegan version too.
Soak the walnuts in just boiled water for about 15 minutes and then drain

Soak the bread in the milk or water, crush the garlic and grate the parmesan.

Meanwhile, boil a large pan of water for your pasta and greens

Add walnuts, garlic, bread, parmesan and oil to a food processor and whizz until a thick paste. Gradually add the water until you get a spooning / dolloping sauce consistency. Season to taste with salt and pepper.

Cook the pasta – set a timer for 3 minutes shorter than the cooking time

Tear or slice your kale or broccoli into bite sized pieces.

Add the greens for the remaining 3 minutes of pasta cooking time

Drain and tip back into the saucepan, with your walnut sauce and mix well to combine. Add a little extra oil or water to loosen the sauce if necessary

Serve with a little extra parmesan
Recipe design by: Alice