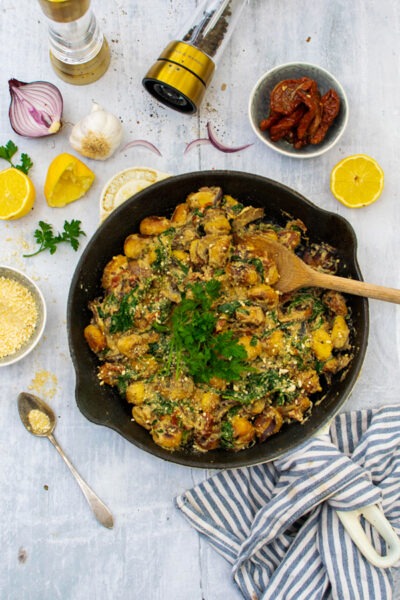 Utterly indulgent, these pan-fried gnocchi with creamy spinach and mushrooms make a yummy main course that is quick and easy to make. Simply soak the cashews in the morning and you will have a comforting dinner on the table in less than 40 mins 
For this recipe, the mushrooms and spinach are cooked in one pan, while the gnocchi are pan-fried in another. You can prepare the cashew sauce while everything else is on the stove. 
I like to serve this dish topped with a generous dusting of my vegan parmesan and some freshly chopped parsley. 
Nut-Free Option: If you prefer a nut-free version you can swap the cashew sauce with 300ml [US 1 1/4 cup] of (dairy-free) cream. Follow the rest of the instructions below adding Dijon mustard, nutritional yeast, lemon juice and nutmeg, but not the water as the cream will be liquid enough. 
Ingredients:
1 medium red onion

 

2 garlic cloves

 

175 g mushrooms

 

3 handfuls spinach

 
From the cupboard:
olive oil

1 tsp dried Italian herb mix

500g fresh gnocchi

 

8 sundried tomatoes
CASHEW SAUCE: 
125 g cashews soaked for 4 hrs to overnight

 

250 ml water

 

1 tsp Dijon mustard

 

2 Tbsp nutritional yeast

 

1/2 lemon juice to taste

 
grated nutmeg to taste

 

Salt and pepper

 
TO SERVE: 
Method:
Soak the cashews for 4hrs to overnight in a bowl of water. Drain and set aside.

 

Drain the cashews and place them in a blender with 250ml water, Dijon mustard, nutritional yeast,. 1/2 lemon juice, some grated nutmeg. Whizz until smooth. Season to taste.

 

Heat some olive oil in a frying pan. Add finely sliced red onion and fry gently until soft. Add the grated garlic cloves, finely chopped mushrooms and dried Italian herb mix. Fry under medium heat until the mushrooms are browned all over.

 

In the meantime heat some olive oil in another large frying pan. Add the fresh gnocchis straight from the bag (there is no need to precook them). Pan-fry the gnocchi for 8-10 mins until crisp and golden.

 

When the mushrooms are cooked, add the spinach and the chopped sundried tomatoes and cook until the spinach is wilted.

 

Mix together the pan-fried gnocchi, spinach and mushroom mix and cashew sauce in one of the pan. Season to taste.

 

Serve with some vegan parmesan and chopped fresh parsley on top.

 
Recipe design and pictures: Annabelle Randles/The Flexitarian