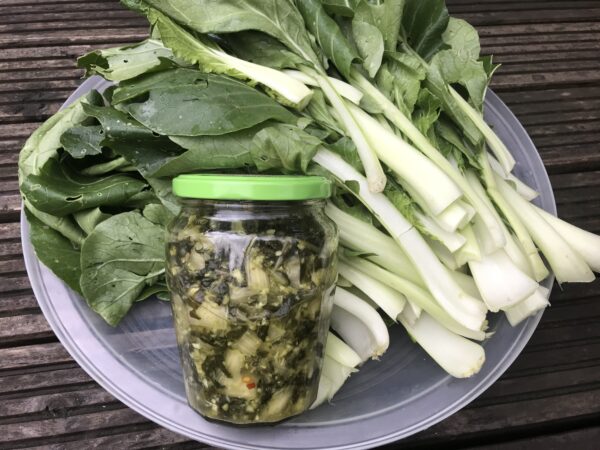 We love making pak choi kimchi when our farm fields are full of this gorgeous vegetable! Easy to make, healthy and superbly delicious!
Makes about 3 medium sized jars
Ingredients:
2kg pak choi
1 bulb of garlic
150g ginger
From the cupboard:
2 tablespoons korean chilli flakes
40g sea salt
Method:
Make the paste in the blender by mixing garlic, ginger and chilli flakes. You can adjust the quantities of each ingredient to suit your taste. The quantities in this recipe will make your kimchi mildly hot.
Chop the pak choi into bigger chunks and place in a mixing bowl. Sprinkle with salt. Start kneading, massaging and squeezing the salted pak choi until the mixture becomes quite juicy.
Add the paste and mix well
Put into jars and distribute the liquid to cover the mixture.
Leave the jars open, covered with tea towel for about 3 days
Your kimchi will keep fermenting for about 2-3 more weeks.
Recipe design by The growing team at Sutton Community Farm