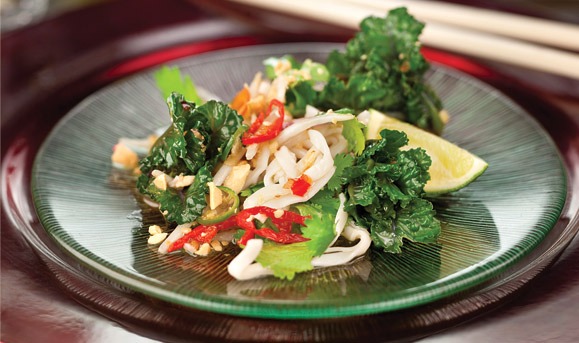 We are very excited for this week's Flower Sprouts. This small brassica is the combination of brussels sprouts and kale, storing all the antioxidants contained in both theses vegetables. It's quick and easy to prepare! You just need to rinse and trim the stems if necessary, after that they'll be ready for steaming or stir frying. Use them as a side dish to your main meal or as an ingredient in a broth, casserole or even soup. Just remember to keep this super food refrigerated to maintain its freshness.
Serves  for 4 people. 
Ingredients:
250g Flower Sprouts (kale will also work)
1 tsp Chopped ginger
1 tsp Garlic chopped
1 tsp Red Chilli chopped
5 tbsp Stir fry oil
300g Pre packed cooked rice noodles
300g Mixed Vegetable and bean sprout stir fry
3 tbsp Thai fish sauce
1 tbsp Light muscovado sugar
2 tbsp Soy Sauce
2 tbsp Roasted peanuts, crushed
2 tbsp Coriander sprigs
1 Lime, quartered
Preparation method:
In a small dish mix the sugar the soy sauce and the fish sauce.
Steam, blanch or micro steam the Flower Sprouts without seasoning.
Fry the ginger, garlic and chilli for 30 seconds until fragrant in the stir fry oil.
Add the vegetables and bean sprouts.
Add the noodles and flower sprouts before seasoning with the fish sauce, sugar and soy sauce mix, tossing constantly over high heat.
To serve, scatter with crushed peanuts, coriander leaves and lime juice squeezed all over.
Recipe and picture from TheFlowerSprout.com