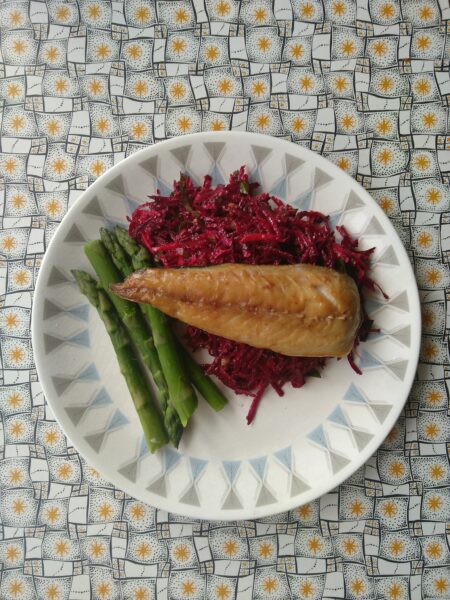 This super speedy and satisfying dish is great for the hungry gap, when the veg scene is still dominated by root veg, but we might get a few warm or even hot days like this week, so are craving something fresh.
The creamy mustard dressing is a classic combination with smoked fish. But for an Asian twist on this recipe, try substituting the dressing for a mixture of lime or lemon combined with chilli flakes, soy and fish sauce, and use coriander or mint for the herbs.
Serves 1 but can easily be scaled up for how many people you are serving! Grated salads are best eaten fresh though, so don't make extra for leftovers.
Ingredients:
1 medium carrot
1 small beetroot
Small handful of fresh herbs (parsley, dill, sorrel, mint or tarragon would all work well with the dressing)
From the cupboard:
1 fillet of smoked Mackerel
Dressing: 
1 heaped tbsp creme fraiche
1 teaspoon of mustard
1 tbsp olive oil
Squeeze of lemon juice or splash of cider vinegar
Salt and pepper
Method:
Combine the dressing ingredients in a small bowl or jar and set aside.

Grate the carrot and beetroot on the coarse side of a grater (I generally grate including the skin, but peel the beetroot if they have thick skin or you find the skin tastes too earthy!)

Finely chop the herbs and combine with grated veg and dressing. Check the seasoning and balance of flavours in the salad and adjust to your taste!

Serve immediately with the fillet of smoked mackerel.

For a more substantial meal, serve with extra veg like asparagus or broccoli, simply steamed or boiled.
Recipe design by Alice