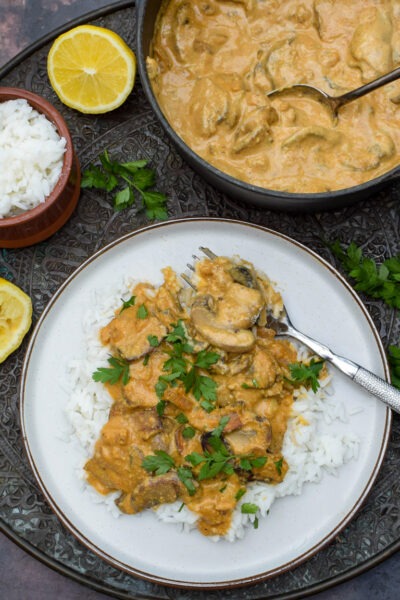 Hearty and utterly delicious, this vegan mushroom stroganoff makes a speedy and comforting dinner. The mushrooms are smothered in a creamy homemade cashew cream that is really quick to make and requires no pre-soaking.
I like to serve this dish with rice topped with freshly chopped parsley. Delish!
Ingredients:
1 onion

3 garlic cloves

600g mushrooms

Zest of ½ lemon

Lemon juice to taste
TO SERVE:
2 handfuls of chopped parsley

rice
From the cupboard:
100 g cashews

200 ml boiling water

2 tbsp vegetable oil

1 tsp smoked paprika

1 tsp paprika

3 tbsp vegetable oil

400 ml vegetable stock

2 tsp Dijon mustard

1 Tbsp tamari sauce
Method:
Put the cashews in a bowl. Add 200 ml of boiling water. Leave to soak covered while you prepare the rest of the ingredients.

Slice the mushrooms.

Add 2 Tbsp of vegetable oil to a large saucepan. Add the finely chopped onion and crushed garlic. Fry gently until soft. Add the smoked paprika and regular paprika. Fry gently for another minute or two, stirring frequently.

Transfer the onion mixture to a small bowl and set aside.

Add 3 Tbsp of vegetable oil to the saucepan. Add the sliced mushrooms and fry until brown all over.

Once the mushrooms are cooked, return the onion mixture to the pan. Add the vegetable stock, Dijon mustard, tamari sauce and lemon zest. Leave to simmer while you make the cashew cream.

Put the cashews and water in a blender and whizz until you have a smooth creamy liquid. Add the cashew cream to the mushroom and leave to simmer for another 5 mins.

Season to taste with lemon juice and salt if needed.

Serve with rice, topped with freshly chopped parsley.
Recipe design and picture: Annabelle Randles/ The Flexitarian