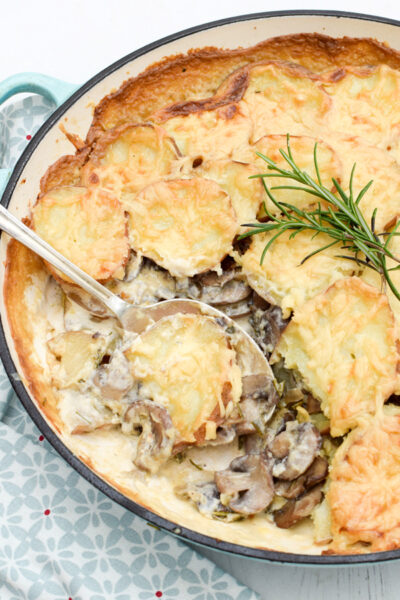 Bubbling with cheese and cream, this Mushroom & Potato Gratin is the ultimate comfort food. Potato gratin is a classic in French cuisine and here I have added some mushrooms for an autumnal twist as well as warming hints of rosemary and nutmeg.
Ingredients:
900g potatoes [2 lbs]
500g chestnut mushrooms [1.1 lbs]
100g shallots [3.5 oz]
2 garlic cloves
1 heaped Tbsp freshly chopped rosemary leaves + 1 sprig
From the cupboard:
40g butter [1.4 oz] + extra for greasing gratin dish
60ml white wine [2 fl oz / US 1/4 cup]
300ml double cream [10.5 fl oz / US 1 1/4 cup]
100ml milk [3.5 fl oz / US 1/2 cup]
150g grated cheddar [5.3 oz]
nutmeg to taste
salt & pepper
Method:
Clean mushrooms and cut them into 2.5mm [0.1 inches] thin slices. Put the cream, 1 crushed garlic clove, rosemary sprig and milk into a small saucepan. Slowly bring to just below boiling. Turn off the heat, season and leave on the side to infuse. Preheat the oven to 180°C/350°F/Gas 4.
Heat the butter in a large frying pan. Add finely chopped shallots. Fry gently for a few minutes until soft.
Add sliced mushrooms, white wine and finely chopped rosemary. Cook covered under medium heat for 5 minutes. Carry on cooking uncovered for around 8 minutes until mushrooms are done. Season to taste.
In the meantime cut the potatoes in 2.5mm [0.1 inches] slices. Put on a clean cloth and pat dry.
Grease gratin dish generously with butter. Rub second garlic clove all over the gratin dish.
Layer half of potatoes at the bottom of the gratin dish. Season with salt, pepper and nutmeg. Add mushrooms and their juices (if any) on top. Spread 5 Tbsp of the cream and milk mixture on top of mushrooms.
Layer the second half of the potatoes on top of the mushrooms. Season with salt, pepper and nutmeg. Add the rest of the cream and milk mixture (rosemary sprig removed) on top. Sprinkle with grated cheese all over.
Cook in the oven for 45 – 60 mins until the potatoes are cooked and the gratin is golden.
Recipe design and photo: Annabelle Randles/The Flexitarian