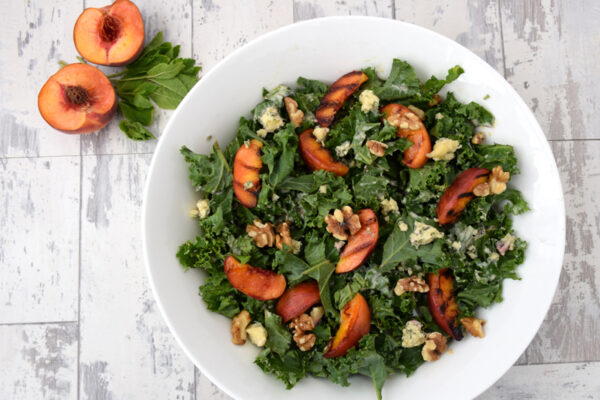 This vegetarian Kale Salad With Grilled Peach, Blue Cheese and Tahini Dressing makes a delicious Summer dish that you can serve as an appetiser or main course. You can grill the peaches in a frying pan, in the oven or on the barbecue.
Ingredients:
2 handfuls of kale (shredded )

2 peaches

1 garlic clove (crushed)

1/2 lemon juice

2 Tbsp mint (finely chopped)
From the cupboard:
1 Tbsp Tahini

1 tsp sugar

50g vegetarian blue cheese (such as stilton)

1 handful of walnuts

olive oil

salt and pepper
Method:
Make the dressing in a bowl by mixing together tahini paste, lemon juice, sugar, garlic and mint with 1 tablespoon of water. Season to taste.

Cut each peach in 8 slices (remove stones).

Place kale in a salad bowl. Pour dressing over and toss.

Heat a frying pan brushed with some olive oil (you can also grilled the peaches in the oven or on the barbecue).

When the frying pan is very hot, add peach slices and cook for 5-6 minutes or so until they are grilled. Flip them gently on the other side half way through. Be careful, if you cook them too much they will disintegrate.

Place peach slices on top of kale. Sprinkle with walnut and blue cheese.

Serve straight away.
Recipe design and picture by Annabelle Randles/ The Flexitarian