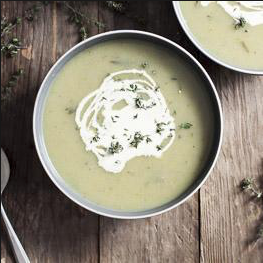 Serves: 4 servings                         Prep and Cooking: 40-45 mins
Ingredients:
800g Jerusalem artichokes

2 large onions

2 apples

Parsley
From the cupboard:
Butter

5 tablespoons cider vinegar

1.6 l milk

100g hazelnuts

Yogurt

2 tablespoons honey (optional

Salt and pepper to taste
Method:
Peal and clean the onions and artichokes. Cut them in quarters. Saute in butter without letting them colour. Add the vinegar and let it simmer until the pan is almost dry then add the milk and let it simmer again for half an hour.

Blend the soup. Add salt, pepper and more vinegar if it's too sweet.
The dressing:
Grill the hazelnuts and let them to cool down. Chop them roughly

Mix chopped parsley, apples and hazelnuts with the yogurt.

Add salt, pepper and honey to taste
Serve the soup with a generous spoon of dressing in the middle
This recipe is adapted by our customer Jenny from the book "Ny Nordisk Hverdagsmad aaret rundt" (New nordic cuisine the year round) by Claus Meyer and Arne Astrup (Strandberg Publishing)