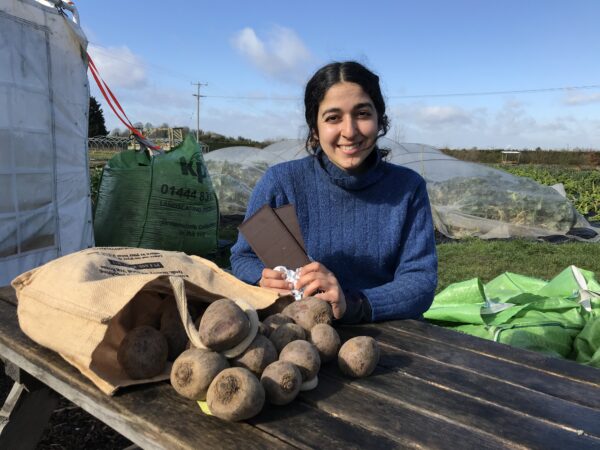 I love chocolate almost as much as I love veg. The first thing I think of when I see gorgeous earthy beets is rich dark chocolate, what a pairing! Surely one of the best? Below is a recipe from a well known chef from River Cottage for some seriously delicious beetroot chocolate brownies. The original recipe calls for boiling the beets but I never bother and just finely grate them raw. I've also added my vegan version of the original recipe. Enjoy!
Ingredients:
250g beetroot peeled and grated finely (boiling first optional)
From the cupboard:
250g unsalted butter, cut into cubes

250g dark chocolate (about 70% cocoa solids), broken into pieces

3 medium eggs

250g caster sugar

A pinch of sea salt

150g self-raising flour
Vegan edits:
Vegan butter works just fine to replace the butter.
In place of eggs, mash in half a ripe banana per egg but be aware of the change in taste.. Maybe for the better!
Alternatively, a tablespoon of ground flax seeds or ground chia seeds to 3 tablespoons of water will substitute one egg if you have those ingredients. 
Whichever substitute, remember to triple those quantities for this recipe as you are substituting three eggs.
Method:
1. Grease a shallow baking tin, approximately 20 x 25cm, and line the base with baking parchment.
2. Put the butter and chocolate in a heatproof bowl. Melt together over a pan of hot water OR set the oven at 180°C/Gas Mark 4 and make use of the preheating oven by putting the bowl in it for a few minutes until the chocolate and butter start to melt. Stir, then put back in to the oven for a few more minutes to melt completely.
3. Whisk the eggs and sugar together in a large bowl until combined then beat in the melted chocolate and butter until smooth.
4. Combine the salt with the flour, sift them over the chocolate mixture, then gently fold in. Fold in the grated beetroot – be careful not to over-mix or it will make the brownies tough.
5. Pour the mixture into the prepared tin and smooth the top with a spatula. Bake for 20 – 25 minutes; when the brownies are done, a knife or skewer inserted in the centre should come out with a few moist crumbs clinging to it.
Don't be tempted to overcook them or they will be dry. Remove the tin from the oven and leave on a wire rack to cool before cutting in to squares.