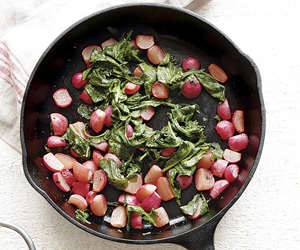 Radishes are a curious little vegetable – raw and shaved, they make a great addition to salads but they can also stand out in their own right when prepared and cooked with a slice of imagination. Sutton Community Farm's radishes are delicious; crunch into one and you'll reveal a delicate sweet flavour, slowly followed by that signature radish zing. We love this recipe by Diane Morgan from Fine Cooking, as she incorporates the radish tops too so nothing goes to waste. Our radish's tops have taken a battering from hungry farm-residents but don't let that put you off – give them a thorough wash and they'll wilt down just as well and taste just as good as they're conventionally attractive brothers and sisters.
Serves: 4 as a side dish / accompaniment
Ingredients:
1-3/4 lb. radishes (about 2 bunches), tops removed and reserved
2 Tbs. honey
1 Tbs. unsalted butter, melted
1 Tbs. white balsamic vinegar
Kosher salt and freshly ground black pepper
Directions:
Position a rack in the center of the oven, set a 12-inch ovenproof skillet (preferably cast iron) on the rack, and heat the oven to 450°F.
Trim the radishes and then halve or quarter them lengthwise, depending on their size. Trim and discard the stems from the tops, wash the leaves thoroughly, and pat dry or dry in a salad spinner.
In a medium bowl, combine the honey, butter, vinegar, 1/2 tsp. salt, and 1/2 tsp. pepper. Add the radishes and toss until coated. Transfer to the hot skillet, spread in a single layer, and roast, stirring occasionally, until the radishes are crisp-tender, 15 to 20 minutes. Remove from the oven, add the radish leaves, and toss until the leaves are just wilted; serve.
Nutritional Information (per serving):
Calories (kcal): 90; Fat (g): 3; Fat Calories (kcal): 25; Saturated Fat (g): 2; Protein (g): 1; Monounsaturated Fat (g): 1; Carbohydrates (g): 16; Polyunsaturated Fat (g): 0; Sodium (mg): 210; Cholesterol (mg): 10; Fiber (g): 3;