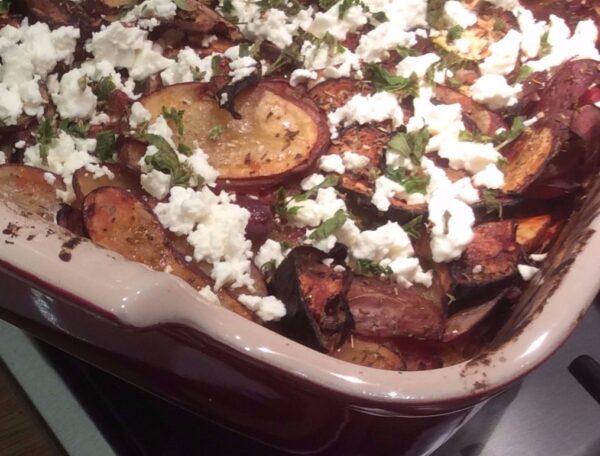 This is my take on on the Greek dish, Briam. It's easy to make and makes use of several of the veg you'll have been receiving in your VegBox.
***
Serves: 4 as a main with a side dish
Ingredients:
1kg potatoes, washed and sliced into 3mm rounds

half a large aubergine, cut into 3mm thick semi-circles
half a large courgette cut into 3mm circles
1 tin of tomatoes
50-100ml olive oil
1 tablespoon dried oregano
100ml water
salt and pepper to taste
fresh herbs and feta to serve (optional)
Method:
In a saucepan, gently heat the tomatoes until just warm. Mash with a potato masher or a fork to remove any large pieces, mix in some salt and pepper and remove from the heat.
Layer half the potatoes in the bottom of a large baking dish – the slices should overlap but the layer should be only one slice thick. Pour a third of the tomato mixture over the potatoes. Follow this with a layer of aubergine and courgette, another third of the tomato and finish with the remaining potatoes and tomato. Sprinkle the oregano and drizzle the olive oil over the top.
Place in the oven, preheated to 180°C. It will take 1 – 1½ hours to cook. Check the liquid after an hour – it should be mostly dry when cooked through. When the top and edges are crisp and the veg is tender it's ready.
Remove from the oven and crumble over a third of a block of feta and sprinkle over 1-2 tablespoons of fresh herbs. I used fresh oregano but parsley or anything you like would work well.
I served with green beans with garlic oil but a salad would make a good accompaniment. You could also substitute some of the veg in the briam for peppers or onions if you have them.
It also makes excellent leftovers.
Recipe and image by Heather, a VegBox customer.