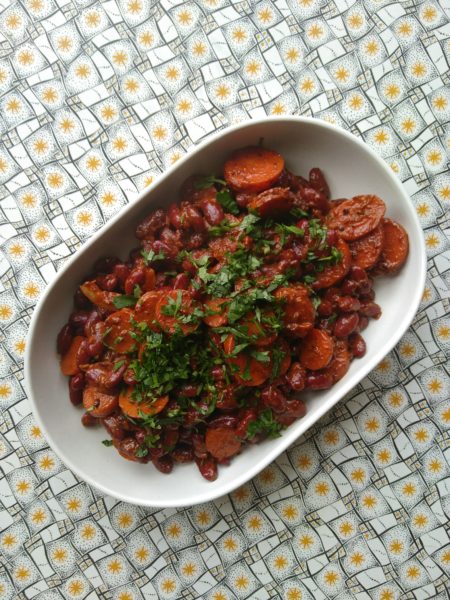 This salad would be great for a summer picnic, you could make it ahead and serve at room temperature. But it was also a great way to brighten up a stormy February afternoon, served warm with flatbreads and yoghurt. Preserved lemons vary quite a lot in flavour and saltiness so start with less and add more once you have tasted the dressing.
Ingredients
3 – 5 carrots

Juice of half a lemon

Parsley, coriander or dill to garnish (optional)
From the cupboard
1 tbsp harissa paste

0.5 tbsp honey

some preserved lemon (1 or 2 slices of a lemon)

olive oil

tin of cooked beans, e.g kidney
Slice your carrots into thick coins. Boil in plenty of salted water for 3 or 4 minutes (they should still have some crunch)

Meanwhile, make the dressing by blending the harissa, preserved lemons and olive oil. Adjust to taste – it should be a bit spicy, a bit bitter, a bit sweet and nice and lemony! And remember it will be diluted by the carrots and beans so can be quite punchy.

Drain and rinse the beans from the tin. Drain the carrots when cooked. Combine both with the dressing and garnish with fresh herbs.
Recipe design by: Alice