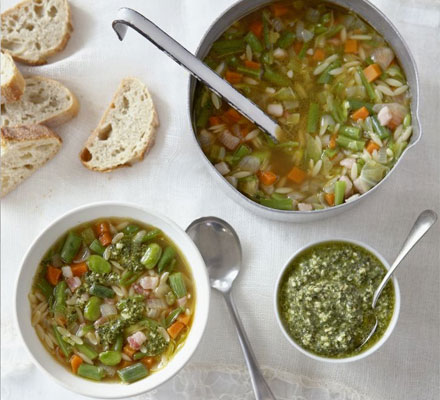 Even though summer isn't over Autumn seems to be approaching. To transition between seasons this week we chose this great rich soup from BBC Good Food that will still give you an exciting summer feel but will bring you the warmth and comfort of the Autumn.
Easy preparation, Cooking time: 30 minutes
Ingredients
 1 onion, finely chopped
1 garlic clove, finely chopped
1 carrot, finely chopped
1 celery stick, finely chopped
 2 tbsp olive oil
 1 bay leaf
 1½ l vegetable
100g small pasta shapes, such as stelline or orzo
300g mixed runner, green and podded broad beans
100g/4oz spring cabbage, shredded
4 tbsp pesto
crusty bread, to serve
Directions:
Start frying  the onion, garlic, carrot and celery in the olive oil in a large saucepan until  tender but not browned. Scoop out and set aside. Put the carrot mixture back into the pan, add the bay leaf, plenty of seasoning and the stock. Bring to a simmer, add the pasta and cook for 5 mins.
After, top and tail the green and runner beans, slice both into lengths that will easily fit on a spoon and add to the pot with the broad beans. Cook for 3 mins, then add the cabbage. Bring back to a simmer and cook for 2 mins. Spoon the pesto onto the top of the soup just before serving and serve with the bread.