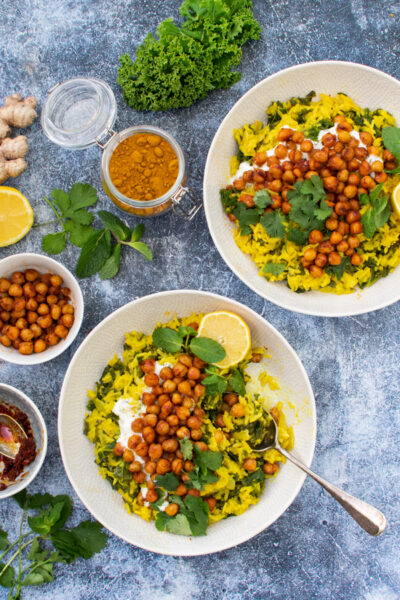 Cooked in creamy coconut milk, this golden rice bowl with turmeric, kale and harissa chickpeas recipe makes a tasty vegan meal that you can have ready in less than 30mins. Leftovers will reheat brilliantly the next day.
The rice owes its gorgeous golden colour to turmeric and is fragranced with ginger for added warmth.
I like to serve this dish with plenty of fresh mint and coriander as well as a dollop of (dairy-free) cream or yoghurt.
Servings : 2-3

Ready in : 30 Minutes
Ingredients:
1 small onion – finely chopped

2 garlic cloves – grated

75g finely chopped kale (hard stalks removed)

TO SERVE:

fresh mint

fresh coriander

(dairy-free) cream or yoghurt
From the cupboard:
3 Tbsp olive oil

1 tsp ground turmeric 

1/ 2 Tbsp grated ginger

175g jasmine rice [US 1 cup]

250ml vegetable stock [US 1 cup]

400ml coconut milk [US 1 3/4 cup] 

1/2 lemon juice

400g can chickpeas [14 oz]

olive oil

1 to 2 tsp harissa paste

salt & pepper
Method:
Heat 3 Tbsp of olive oil in a large saucepan. Add finely chopped onion, grated garlic, grated ginger and turmeric. Fry gently for a couple of minutes.

Add rice. Mix until coated in oil all over. Add vegetable stock, coconut milk and finely chopped kale. Stir until all ingredients are mixed together. Cover and cook under medium heat for 10-15mins until rice is cooked. Stir from time to time so that the rice does not stick to the bottom of the pan.

In the meantime heat some olive oil in a frying pan. Add drained chickpeas and, depending on how spicy you would like the chickpeas to be, 1 to 2 tsp of harissa paste. Toss together until the chickpeas are coated all over. Fry under medium heat for 10 mins or so until the chickpeas are golden.

When the rice is done, season with lemon juice, salt & pepper.

Serve rice straightaway topped with chickpeas, (dairy-free) cream or yoghurt as well as fresh mint and coriander.